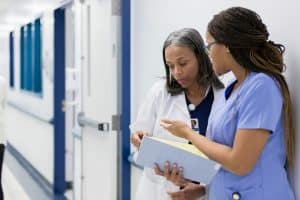 Interested in becoming a medical assistant but want to work in a hospital? Most medical assistants work in doctor's offices, but they're increasingly essential in hospitals. It's an exciting setting and with diverse roles and potential for specialization. Here's a closer look at what a medical assistant does in a hospital and how to prepare for those responsibilities.
What Does a Medical Assistant Do in a Hospital?
Trained in both clinical and administrative tasks, a medical assistant working in a hospital can do the same things they do in private practices. But because patients are more acute, the staff members best able to fulfill a role usually do the job. Unless they're also a certified nursing assistant, it's unlikely a medical assistant will assist people with personal care on most floors. And because regulations limit who can administer medications to the sickest patients, that will be left up to nurses.
But there are many clinical tasks medical assistants can perform. Most will reflect the unit they're assigned to. In doctor's offices, a medical assistant sees a wide range of patients. On a hospital floor, most admissions have the same type of problem or need. For example, the labor and delivery floor serve birthing families while a day surgery unit performs minor surgeries on ambulatory patients.
What a medical assistant can do in a hospital is defined by each state, but in most, a medical assistant can support professionals clinically in all units by:
Collecting biological samples
Transporting patients to other departments for select diagnostic tests
Taking screening vital signs
Preparing patients for procedures
Disinfecting equipment
Administering routine vaccinations to well patients
Medical assistants employed in hospitals are more often found in administrative roles, but tasks can overlap with clinical functions. Every department needs strong clerical support. Administration responsibilities in each may include:
Maternity
Welcoming patients
Applying identification bands
Reviewing facility amenities
Assisting room-in family members
Reviewing health history
Answering phone calls
Completing birth documentation
Scheduling follow-up visits for the mother and child
Collecting menus
Ordering supplies
Filing and organizational tasks
Assisting physicians and nurses with recordkeeping
Emergency
Assisting patients and families with treatment paperwork
Retrieving documentation
Managing the switchboard
Collecting insurance payment information
Calling insurance companies for admission preauthorization
Ordering and stocking supplies
Preparing exam rooms
Processing soiled laundry and instruments
Preparing discharge instructions
Arranging transportation to other facilities
Communicating with collaborating physicians
Filing and electronic health records
Supporting families with hospitality services
Outpatient Surgery
Outpatients are stable and have needs similar to those a medical assistant will encounter in a private practice. In many cases, medical assistants can take a more active role in their care under the direct supervision of a doctor or nurse. Tasks may include:
Checking patients in for procedures
Printing ID bands
Reviewing medical history
Making family comfortable
Answering phone inquires
Taking pre-procedure vital signs
Suite preparation
Instrument set-up
Refilling supplies
Assisting with personal care
Reviewing discharge instructions
There are also many all-clerical roles for a medical assistant in administrative and other outpatient departments. Duties in each medical assistant role may include:
Medical Records
Answering phone calls
Filing
Reviewing privacy policies with patients and obtaining signed consent forms for releasing records
Retrieving data for physicians during inpatient stays
Archiving paper records
Financial Services
Answering billing questions
Setting up payment plans
Collecting patient copayments and balances
Invoicing
Coding and filing insurance claims
X-Ray
Managing the schedule
Directing patient flow
Answering the phone
Retrieving test results
Maintaining a safe and comfortable waiting area
Sanitizing changing areas
Assisting patients with storing their belongings
Supporting radiologist with documentation
Hospitality
Who Does a Medical Assistant Work With in a Hospital?
Medical assistants working in a hospital will connect with many more people than they would in a doctor's office. A medical assistant's roles are refined and everyone has a specific job to do. On a clinical unit, medical assistants work closely with:
Patients and their families
Physicians
Nurses
Nursing assistants
Central supply staff
Pharmacy technicians
Lab techs and phlebotomists
Nutritionists and dietary aides
Maintenance and environmental services employees
Social services
In an administrative role, colleagues will include:
Billing and coding specialists
Accountant and auditors
Insurance company representatives
Supply vendors
Records technicians
Unit clerks
Who Will Enjoy Working in a Hospital as a Medical Assistant?
Working in a hospital is very different than being employed by a private practice, there are pros and cons. Acute care facilities never close, so unlike a doctor's office, some positions require working nights, weekends and holidays. Others, including most outpatient departments and financial services offer regular Monday through Friday schedules.
But if you thrive on excitement and like to stay busy, the hospital environment is fast paced. You'll meet people from all walks of life and learn more about medicine than you imagined possible. No two days are ever alike, there's so much to learn. And if you get bored quickly, the work rarely gets stale.
You can move from one department to another as positions open, mastering tasks while making yourself a more knowledgeable and valuable employee. It's the perfect way to gain experience, adding to your skillset while padding your resume and positioning yourself for a brighter future.
Final Thoughts
As roles for medical assistants expand, employment opportunities are increasing. While some jobs are on the chopping block, replaced by automation, demand for medical assistants has never been greater. Regardless of where you want to work, you'll be a valued member of the healthcare team and enjoy a stable, rewarding career.
Ready to start working toward your medical assistant technician diploma? The Medical Assistant Technician Diploma Program is designed to prepare you to obtain entry-level employment as a medical assistant technician. This program offers you the opportunity to learn the necessary knowledge and skills both in the classroom and in a supervised clinical practice. You will learn how to prepare patients for various technical examinations such as EKGs and phlebotomy, as well as how to perform several such procedures.
Ready to move from the classroom to a career? Florida Technical College is here to help. Contact us to learn more about completing the medical assistant technician diploma program at Florida Technical College.