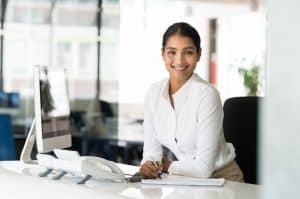 If you are interested in becoming a business office specialist, office clerk, administrative assistant, executive assistant or data entry clerk then you have many options. It is true that you can become an administrative assistant or office clerk without a diploma from a secondary college but there are some important benefits to a vocational school education over just earning your high school diploma. Your first step to these benefits is to earn a business office specialist diploma.
How Do I Become a Business Office Specialist?
The best way to become a business office specialist is to get a formal education in the field. No need to get a business administration degree from a 4-year college, you can get a diploma and be ready to start working. Some of the benefits of a vocational diploma include:
Benefit #1: A Quick Start
Attending full-time, you can complete your business office specialist diploma program. You learn everything you need to know to help support the staff of a busy office. No special elective courses, just the knowledge you need to start your new career from day one.
Benefit #2: Stand Out from the Crowd
Two candidates apply for the same business office specialist position at a company. The employer looks at both resumes, and one has a business office specialist diploma. That employer knows that the business office specialist diploma candidate has learned how to use the relevant computer applications and understands the tasks that are involved in being a business office specialist. They understand that the diploma candidate will need less training and be ready to hit the ground running. All things being equal, the candidate with the diploma will more than likely get a higher rating on their employment assessment.
Benefit #3: Well-Rounded Education
You will not only learn how to answer the phone, take messages and create word documents in a business office specialist program, during this program you also get an introduction to business and how a business function. You learn the basics of accounting and the fundamentals of bookkeeping and financial accounting. This program also introduces you to marketing, management and human resources. This well-rounded education will open up many opportunities within multiple industries, offering you options to pick an industry that you are interested in. From large business to small business, and non-profit firms, you have many opportunities when graduating from the business office specialist program.
Benefit #4: Career Advancement*
Those candidates with a business office specialist diploma will stand out from the crowd and make it passed the human resources desk to the manager in charge. Having a vocational diploma proves that you can work on tasks from start to finish, are reliable and can get the job done. A vocational diploma will also help you move up the ladder within the organization. Whether you want to go from administrative assistant to executive assistant or plan on becoming an office manager with a little experience. A business office specialist diploma prepares you to start a career with lasting advancement and many opportunities.
What Do I Learn in a Business Office Specialist Program?
There are many different classes that will teach you what you need to know to start working from day one. From computer operations and business communications to office operations, marketing, information management and human resources. You will learn the many skills needed to support the staff of an office and keep it running smoothly.
Computer Operations
During this course, you will complete lab assignments using the PC's operating system and many different computer applications including word processing, Internet browsers, spreadsheets and presentations. You will learn the suite of applications that are offered in Microsoft Office. These include Microsoft Word, Excel and PowerPoint.
Business Communications
You will learn about day-to-day business operations and effective communication using computer-processing software, Google platform and cloud-based applications. Written communications will include memos, letters and reports. Verbal communication will be mastered as you will need to work as a team, report to supervisors and respond to clients that call into the business.
Office Operations
You will learn the purpose and use of spreadsheets within the business office operations. You will create and edit workbooks and assist in decision and problem-solving analysis. Included in this course is light bookkeeping including profit/loss, cash flow statements, and balance sheets. This knowledge will come in handy when you take deposits to the bank, manage payroll or use QuickBooks to manage some of the offices accounting functions.
Accounting Basics
During this accounting specific course, you will learn the fundamentals of bookkeeping and financial accounting. Principles and issues concerning financial statements, ledgers, taxes, capital and revenue expenditures and bank reconciliation.
Business Presentations
This course focuses on the use and function of PowerPoint in a business office. You will use the correct applications and techniques to create and design presentations with charts, graphs, images and multimedia.
Introduction to Business, Marketing and Human Resources
These courses will explore the concepts, principles and operations of business, marketing, and human resources. From brand management and pricing strategies to price, promotion and distribution. You will wear many hats and an introduction to business, marketing and human resources will support your knowledge as a business office specialist.
Information Management
A large portion of a business office specialist's job is managing information. From spreadsheets and presentations to information systems. You will be responsible for data-entry, file keeping and other information management tasks.
Final Thoughts
Now that you know you want to become a business office specialist, it is time to put in the work to graduate with a diploma from Florida Technical College. This diploma will open up doors and continue to offer opportunities for years to come. Florida Technical College even has career services that will prepare you for that first interview and writing a resume. Take your first step toward a rewarding career and become a business office specialist today.
Business Office Specialist Diploma Program

Ready to start working toward becoming a business office specialist? The Business Office Specialist diploma program prepares students with the knowledge and necessary skills to perform various business operational functions using office equipment and computer software to manage technical administrative tasks in multiple office environments. Students will develop customer service, problem-solving, and communication skills to function appropriately in an office environment.
Ready to move from the classroom to a career? Florida Technical College is here to help. Contact us to learn more about completing the information technology degree program at Florida Technical College.
*These examples are intended to serve only as a general guide of possible employment opportunities. There are many factors that determine the job an individual may obtain and Florida Technical College cannot guarantee its graduate any particular job. Some positions may require license or other certifications. We encourage you to research the requirements for the particular position you desire.