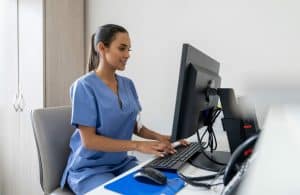 Medical billing and coding specialists manage health insurance claims and navigate complex payment issues so healthcare facilities get timely reimbursement. It's a thriving field. If you're ready for a new career, a job in medical billing could be just what the doctor ordered. Vocational schools are standing by to help.
How Do I Get a Job in Medical Billing?
The fastest way to get a job in medical billing is to graduate from an accredited vocational school. Full-time students can earn a diploma in as little as nine months.
Vocational schools are committed to helping you find employment, beginning with externships that help you connect with potential employers. You'll have networking opportunities among peers and on social media sites like LinkedIn.
What Will I Learn in a Medical Billing and Coding Program?
Medical billing and coding programs are geared toward students with no background in health or medicine. You'll learn everything you need to know to land an entry-level position in medical billing. Courses include:
Medical Office Procedures
This course teaches basic administrative procedures, including filing, mail handling, and electronic communication. Stress management, interpersonal communication strategies, and workplace ethics are emphasized.
Anatomy and Physiology with Medical Terminology
Medical billing is a non-clinical role but knowing more about the body and how it works is essential to deciphering documentation and completing insurance forms. This course teaches you about body systems, disorders, and treatments; plus, how to understand the associated terminology. Graduates will be comfortable researching medical records for pertinent data.
Health Information
The Health Information course explains medical data management. You learn how electronic health records (EHR) are stored and accessed. You'll practice retrieving information and entering data accurately. Privacy regulations and security practices are covered.
Coding
Medical codes are alphanumeric sequences used to describe medical conditions, treatment, and supplies. You'll learn about the three major coding systems; ICD-10, CPT and HCPCS, and how they're used for billing.
Medical Billing and Insurance
In this course, you examine different types of health insurance programs from private to public. You'll learn about the revenue cycle and the unusual way medical services are paid for.
Certification Preparation
Certification is an important step in any medical billing specialist's career. This course prepares you for the exam, bringing together material from the entire course.
Capstone
Capstone courses are an opportunity for you to demonstrate what you have learned, using your knowledge and skills to complete a final project. Upon completion, you'll feel more confident in your real-world abilities.
Where Can I Work with a Medical Billing Diploma?*
Billing and coding specialists can work anywhere medical bills are created or processed, such as:
Hospitals
Hospitals generate the majority of health insurance claims. Most are handled electronically between institutions and insurance companies. Billing and coding specialists work as part of a team and are assigned to manage specific tasks. Since billing and coding are technically different, you may just do one or the other in a large facility.
Working in a hospital is fast paced but never boring, and there's typically room for advancement. If you want to learn everything there is to know about billing and coding, it's a great place to start your career.
Doctor's Offices
Private practices hire billing specialists to handle insurance claims. The pace is relaxed but you may do more than billing-only tasks. Administrative staff are more likely to manage transactions from start to finish instead of focusing on one type of task. It's a perfect setting for new graduates.
Medical Billing Services
Many doctor's offices are outsourcing their billing to third-party services. They're efficient, and in most cases, less costly than supporting an in-house billing department.
In this setting, medical billing and coding specialists may process claims for hundreds of practices. It's a busy environment with less clinical exposure and ideal for people who enjoy working with numbers more than patients.
Insurance Companies
Insurers review all claims for accuracy before issuing payment. The billing specialist's job is to cross-reference reimbursement requests with policies to determine if services are covered. Working for an insurance company, you'll analyze complex claims, searching for errors. It's an intriguing role for a detail-oriented person with an aptitude for investigation.
What Are the Benefits of Getting a Medical Billing Diploma?
Getting a medical billing diploma has life-long benefits, including:
Benefit #1: Fast-track Training
Vocational schools offer the same comprehensive education in just nine months. How? By focusing on practical skills and eliminating costly elective courses that don't contribute to your job qualifications. You'll spend less time on your education and get a jump start on your career. Why wait for a paycheck?
Benefit #2: Learn from Industry-experienced Instructors
Seasoned instructors are an invaluable resource for students. Not only are they qualified to teach, but they also have a unique perspective on the industry and how to develop a career. Many still work in the field and can guide you to employment opportunities. You'll learn tips for success and gain a deeper understanding of course material.
Benefit #3: Get a Competitive Advantage
A diploma isn't legally required to work as a medical billing specialist, but it's an expectation. Higher education demonstrates the proven skills employers need, and it's a must for certification. In a field of well-qualified applicants, a diploma gives you a competitive edge.
Benefit #4: Enjoy Job Placement Services
Vocational schools work closely with local employers to understand their staffing needs. Businesses, in turn, partner with schools to find qualified applicants, and many of the job openings aren't posted for the public. Connecting students and employers is just one of many career services vocational schools offer.
Final Thoughts
There are many places to work as a medical billing specialist and lots of benefits to attending a medical billing and coding program. While other jobs are becoming obsolete, replaced by technology, medical billing is a rare opportunity to secure an exciting future in a growing industry.
Want to Learn More?
Ready to start a rewarding career in the medical field? The Medical Billing and Coding Specialist Diploma Program is designed to prepare you to obtain entry-level positions in the medical billing and coding field through a combination of both clinical and administrative training. You will learn and practice how to use management software and electronic health records (EHR). You will further become proficient in medical insurance and billing using the ICD-10, CPT, and HCPCS II coding system manuals.
Ready to move from the classroom to a career? Florida Technical College is here to help. Contact us to learn more about completing the Medical Billing and Coding Specialist Diploma Program at Florida Technical College.
*These examples are intended to serve only as a general guide of possible employment opportunities. There are many factors that determine the job an individual may obtain, and Florida Technical College cannot guarantee its graduate any particular job. Some positions may require license or other certifications. We encourage you to research the requirements for the particular position you desire.