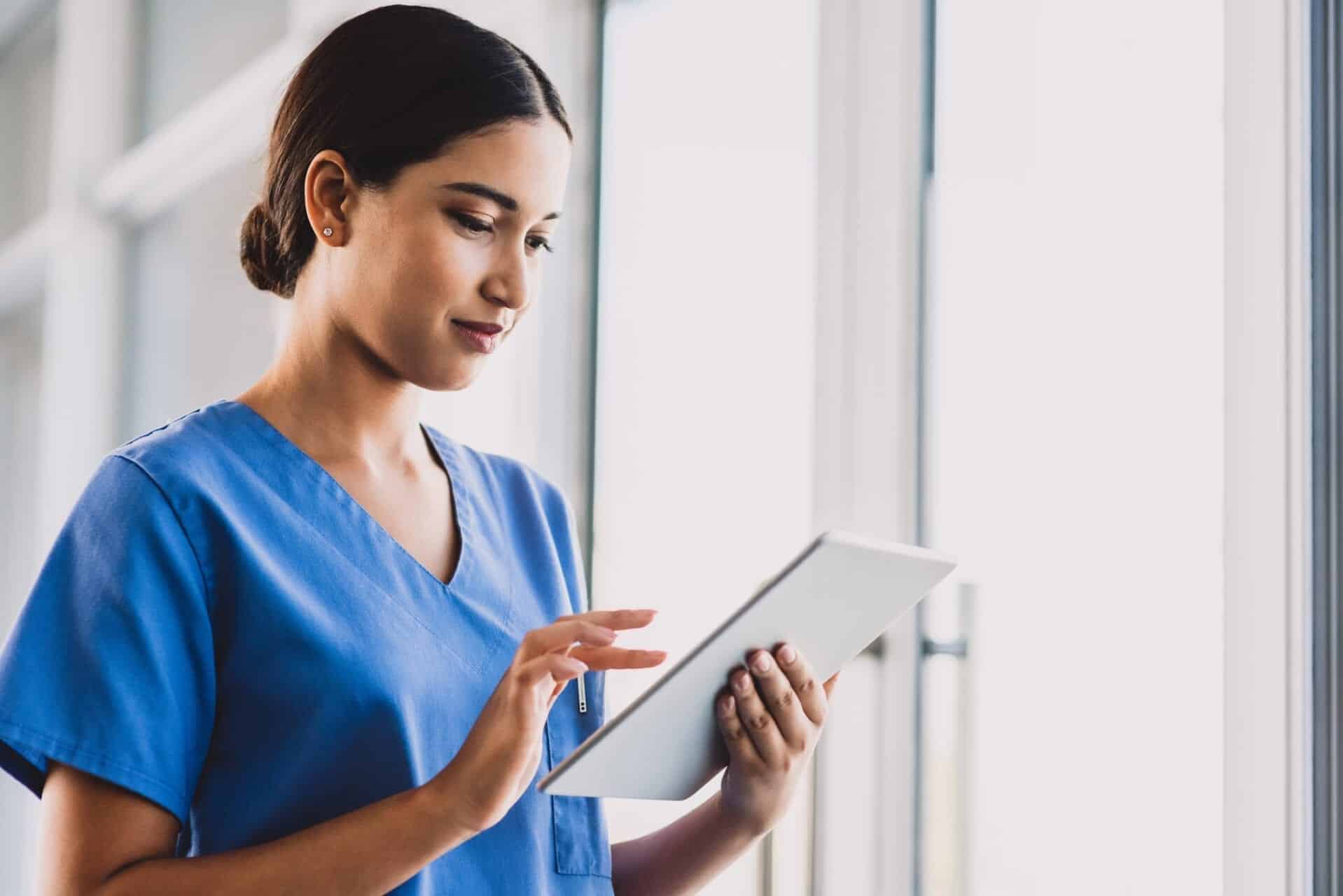 Medical billing and coding specialists manage insurance claims in hospitals, clinics and doctor's offices. The majority of healthcare bills in America are paid for by third party insurers, so completing, submitting and troubleshooting claims is essential for maintaining a medical facility's cash flow. Demand for medical billing and coding specialists is growing, but education is a prerequisite for success. Here is how a vocational school can help.
What Type of Education is Needed for Medical Billing and Coding?
Most employers require at least a vocational school education, medical billing and coding is too complex to learn on-the-job. Associate degree and diploma programs also prepare graduates for industry certification from accredited organizations, including the National Healthcareer Association (NHA) and the American Academy of Professional Coders (AAPC). Becoming certified is not a requirement to work as a medical billing and coding specialist, but it makes job applicants more attractive and opens the door to greater opportunity.
What Do You Learn in a Medical Billing and Coding Program?
Medical billing and coding programs cover everything you need to know to get started in the field. Topics include:
Basic math
Personal communication techniques
Accounting fundamentals
Word processing, spreadsheets and practice management software
Medical Terminology
Pathophysiology
Pharmacology
Electronic Health Records (EHR)
Insurance and reimbursement
Medical law and ethics
Privacy regulations
Customer service principles
Coding systems
Upon graduation, you will be ready for an entry-level job in a healthcare setting, and with experience, you can grow into positions with more responsibility. With continuing education, medical billing and coding specialists can become supervisors and even upper-level administrators. The sky is the limit if you are self-motivated.*
Why Choose a Vocational School Education?
There are many benefits to vocational school education. They include a quick training program, flexible class schedule, small class sizes, hands-on learning, financial aid for those that qualify, job placement benefits.
Benefit #1: Quick Training Programs
Most jobs in healthcare require a college education. It is a good investment but spending years at a university does not make sense for everybody. Students can choose to go to a college or university to get a bachelor's degree in medical billing and coding, but vocational school associate degree and diploma programs can prepare you in months.
How? Vocational schools focus on practical skills, eliminating the elective courses that do not contribute to your specific job qualifications. Full-time students may be out of the classroom in under a year.
Vocational schools offer lifestyle-friendly schedules, including full-time, part-time and hybrid options that let you study from home. You can keep working, earning while you learn off-hours, or get in the field as fast as possible with an intensive full-time program. The choice is yours.
Benefit #3: Small Class Sizes
Studies show students learn best in small classes. The hustle of university life is distracting, and crowded lecture halls offer little opportunity for one-on-one interaction with school instructors and peers.
The atmosphere in small classes is more relaxed and creative. It is easier to focus and share. School instructors can meet individual students' needs instead of creating one-size-fits-all lesson plans. Mutual feedback helps students grow, and no one falls behind.
Benefit #4: Hands-on Learning
Learning is a dynamic process, and everyone has their own style. Some students absorb their education better by reading and attending lectures, while others prefer a hands-on approach. In small classes, you have time to work on practical exercises with immediate feedback from your instructors. You will get a feel for insurance forms and how medical records software works, so you can feel confident your first day on the job.
Benefit #5: Financial Aid for those that qualify
Financial aid is not just for universities. Vocational school medical billing and coding programs can qualify. School counselors can recommend scholarships, and work-study programs may be available. Private institutions may also offer payment plans or deferred payments that are not due until after graduation. Some employers also work with schools on programs that defray the cost of tuition for students that agree to work for them upon graduation.
How Do Diploma Programs Prepare Graduates for the Job?
Vocational school students learn a wide range of practical skills required for success on the job. The curriculum ensures graduates have the knowledge they need to hit the ground running. Still, education is about more than memorizing facts, it is about developing the soft skills that enhance your expertise. A vocational school diploma program helps you:
Communicate Better
Communication is a significant part of any job in the medical field, but it does not come naturally to everyone. Interacting with others in a professional environment can be intimidating, but through your work in the classroom, collaborating on projects with peers, you will learn how to express yourself accurately and thoughtfully both verbally and in writing.
Be More Confident
It is hard to feel confident on the job when you are ill prepared. Vocational schools know what employers want, and they ensure graduates are ready for their role. The education and practical skills they offer inspire the self-confidence you need to adjust to new responsibilities and fit in with colleagues.
Think Critically
Critical thinking is the art of analyzing facts and coming to rational conclusions. It is a skill all problem solvers need. Medical billing and coding specialists troubleshoot problem claims so a keen eye for detail, and the ability to follow processes step-by-step is essential. You will work on tasks in school that will hone your ability to think with precision, practicing techniques so you can find the underlying cause of complex issues quickly.
Manage Time Efficiently
Going back to school adds another layer of responsibility to an already busy life. But the benefit of the fast pace prepares you for a busy workplace. Managing classes, homework and study time plus projects and your regular daily activities is good practice for working in a healthcare environment where productivity is an important goal.
Develop Professionally
No matter where you are in your professional life, the job market evolves. The key to keeping up with change is education. If you are working in a medical office now or have similar skills and want to explore a career in billing and coding, a vocational school training program can help you build on what you already know.
Final Thoughts
Getting an education does not have to be out of reach because you are short on time. Vocational schools offer today's students the flexible, cost-effective options they need to pursue their dreams. If being a medical billing and coding specialist is your dream, a secure future in a rewarding industry is just months away.
Ready to move from the classroom to a career? Florida Technical College is here to help. Contact us to learn more about completing the medical billing and coding program at Florida Technical College.
*These examples are intended to serve only as a general guide of possible employment opportunities. There are many factors that determine the job an individual may obtain and Florida Technical College cannot guarantee its graduate any particular job. Some positions may require license or other certifications. We encourage you to research the requirements for the particular position you desire.