Latest Makeup Trends for Spring '22
The arrival of spring means more than just warmer weather; it also means new trends in beauty. If you're a makeup fanatic, you are going to love the fun new ideas for spring 2022, straight from the runways.
As someone who loves makeup and style, why not use your talents in a new career? With a diploma from Florida Technical College's esthetics program, you could become a professional makeup artist. Here are five of the coolest trends for this spring, which you can learn how to apply with the right training:
Trend #1. Glitter, glitter everywhere.
Nothing about this spring's makeup trends are subtle, and glitter is not just for little girls anymore. The runways for this season were covered in glittery makeup and glitter as makeup. For a toned down version, try a glitter eyeshadow or a shimmery, all-over face powder to give just a hint of glitter and sparkle.

Trend #2. Fun French manicures.
A manicure is like makeup for your fingertips. A French manicure is a classic, but can also be a little boring and conservative. Think fun and festive for this spring. French manicures have gotten a makeover with tips done in bright colors, metallic, and even glitter. You can even add nail art to the neutral base of a French manicure to make it more fun and trendy.
Trend #3. Bright blue for eyes.
For anyone who missed this favorite eye shadow shade of the 1980s, it's back. For spring this year, bright blue hues, applied thickly, are becoming all the rage. From rich cobalt blue and teal eye shadows to shimmering royal blue liner, blues that catch attention are big right now. To go bold, try a bright blue shadow, but for a more subtle take try navy eyeliner.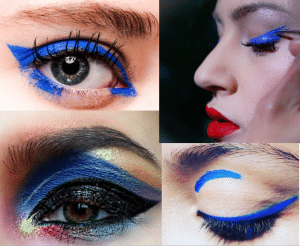 Trend #4. Outlandish eyelashes.
Models on the runway this spring were sporting some wild eyelashes. Some were super think, while others were extra-long. Some faux lashes were even trimmed into unique shapes or came in bright colors, especially blue. You can try this trend without looking too outrageous by trying slightly longer lashes or go bold with colored lashes with toned down shadow and liner.

Trend #5. Bronze skin.
With warmer weather and sunny skies, tanned skin is always popular. This spring, look for a light touch. A light bronzer on the places the sun naturally touches is just perfect. Another technique seen on the runways this season has been a mix of shimmery bronzer with face cream for an all over, subtle glow.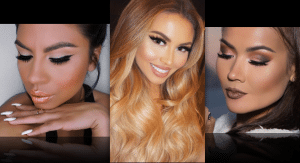 Trend #6. Face Gems.
Whether you use real diamonds or face gems, the newest spring trend to create twinkling and elegant punctuation to your makeup is face gems. Once the skin is dry, you will apply a small dot of glue on the gem and wait for the glue to get tacky. Using tweezers, you can apply the gems to your eyes and face.
@allanface

Trend #7. Brighter Lips
The return of a '50s staple, strong red lips are back and here to stay. Regardless of whether you are going for a formal style or just meeting someone for coffee, brighter lips are in vogue.
Makeup this spring is all about having fun and taking risks. Why not do the same for your career? If you love makeup and have an eye for trends, you could be a makeup artist or esthetician. At Florida Technical College, you can earn a diploma in cosmetology that will train you for any career in beauty, from working in a salon or spa to being a freelance makeup artist. At our Kissimmee campus you can take courses that work with your schedule, and take advantage of financial aid assistance and you could soon be working in the career of your dreams!

Cosmetology Diploma Program


The Cosmetology Diploma Program offers the Florida Technical College student the opportunity to acquire and practice the knowledge, skills, and attitude necessary to gain an entry-level job in the cosmetology field. Cosmetology school students receive theory and practical experience in hair, skin, and nail care. The cosmetology training program is designed to prepare graduates for Florida Licensure in Cosmetology.
Ready to move from the classroom to a career? Florida Technical College is here to help you. Contact us to learn more about completing the Cosmetology Diploma Program at Florida Technical College.
*These examples are intended to serve only as a general guide of possible employment opportunities. There are many factors that determine the job an individual may obtain, and Florida Technical College cannot guarantee its graduate any particular job. Some positions may require license or other certifications. We encourage you to research the requirements for the particular position you desire.
RELATED ARTICLES :