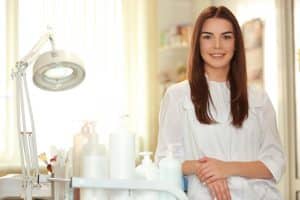 Do you obsess over hair and makeup? Do you pay attention to the latest ways celebrities are using nail art? Were you the friend doing everyone else's hair for prom? Do you feel like your current job is going nowhere and isn't challenging you? If you can answer yes to these questions and identify with some of these signs and clues, it may just be that you were born to go to cosmetology school.
Cosmetology school is a trade-based program that prepares students in as little as 12 months for rewarding and exciting careers in hair styling, salon ownership, makeup, nails, skincare, and barbering, even freelance beauty. Can you imagine getting out of your current job and spending every day doing makeup, designing new hairstyles, or helping people feel more confident with their looks? If so, you might just be ready for cosmetology and a new and better career.
1. You're always doing your friends' hair—and they love it.
You're the go-to person in your family and among your friends for hair, right? Or maybe they come to you for makeup, or nail art, or all of the above. You have this natural talent and you love doing it. You could continue to just do favors for your friends and family members, but why not do more with your inherent talent and creativity. With the right training through a cosmetology program, you could get the skills that would support your natural talent and allow you to make a lucrative career out of it.
2. You complain about your dead-end job, a lot, so it may be time for cosmetology school.
Your friends are sick of hearing about it, but you are just sick of your job. Mainly because it's a job, not a career, you feel as though you aren't doing anything meaningful and lastly, you really don't enjoy the work. If your friends and family are tired of hearing you complain, it could be a sign that you are ready for a career change. Cosmetology school can lead you to a great career that is nothing like your current job. A cosmetology program will give you all kinds of options for a career: working in a salon, being a freelance makeup artist, working at a spa or resort in an exotic location or even opening and running your own salon.
3. You feel you aren't able to express yourself creatively at work.
Being a hairstylist or makeup artist is not just a job; it's a creative pursuit. If you never get the chance to be creative as you slave away at your job, it can be really draining. Everyone needs to be able to express themselves sometimes, but some have more creative energy than others. A career in beauty is a great way to use creativity, to actually create new looks and wearable art, every single day while getting paid for it. And you can find your creative passion during a cosmetology program.
4. You started experimenting with makeup early, like in kindergarten.
Did you get in trouble as a kid for playing with your mom's makeup, like often? If so, you may be one of those people who was born for a career in beauty. Maybe you also got in trouble for trying to cut your own hair or your sister's hair. Does that sound like you? It may have gotten you in trouble back then, but your early creativity and curiosity mean you have always had a fascination with hair, makeup, and beauty and you would likely thrive in this industry. During a cosmetology program you learn basic makeup, makeup for special occasions and runway makeup.
5. You want a new career, but you're worried about quitting or going to cosmetology school.
The U.S. Bureau of Labor Statistics can put your mind at ease. With the right cosmetology school and training, you won't have any trouble finding a job in beauty. And, you can count on continued job security and a great salary, probably better than what you earn now. Growth in careers in all areas of cosmetology and beauty is faster than average job growth. There continues to be a need for people who are skilled at working with hair, makeup, and nails.
6. You're chatty and great with people, a natural skill you can't learn in cosmetology school.
Hair and makeup professionals are some of the friendliest people in the service business. They might come in a close second to bartenders as the professionals most likely to listen to their customer's confessions and woes. If you love being around people, listening, and talking, but your current job leaves you feeling isolated, it may be time for a change to cosmetology. This is a career that requires great people skills, and being a great listener can also help you earn more; people tip better when they enjoy a great all-around experience with a hairdresser, manicurist, or barber.
7. You dream about what it would be like to be your own boss.
Not everyone is cut out to be an entrepreneur. Not everyone has the discipline and drive to be their own boss, but for those who are cut out for it, the desire to stop working for someone else and to take charge instead is strong. If you think about it often, and you enjoy beauty, makeup, and hair, cosmetology school could be your next step toward becoming your own boss. With the skills and training in makeup, hair, nail art, skincare, as well as an education in salon management and career development, you can take your passion to the next level and become a freelance beauty professional or salon owner.
8. You're obsessed with the latest beauty products and nail trends.
If you are always looking at what's new and what's hottest in beauty trends, you were made for cosmetology school. Students in cosmetology have a real passion for the beauty industry and they naturally look for the latest trends, peruse fashion and industry magazines, as well as keep a close eye on trendsetters. If that sounds like you, you could be ready for your next career move—enrolling in a cosmetology program.
9. You have been thinking about going to cosmetology school, but you aren't sure you can make it work.
Going back to school is a dream many people have, but the reality is that it isn't always practical. You have a lot of factors that come into play, like your current job and the need to keep earning an income, family responsibilities, and of course, you also have to think about tuition and where you'll come up with the money to pay for your training. If it doesn't feel like you can fit cosmetology school into your already busy life, you may never take that step and achieve your dreams, but if you have been thinking about it a lot, it may mean that you are ready to do what it takes to get there. At Florida Technical College you can fit courses around your life and busy schedule. Keep working while you learn. Keep up with family obligations too. It only takes about 12 months to earn a cosmetology diploma, and it is time well spent.
How To Go To Cosmetology School
All the signs are there and now you only need to pay attention to what they're telling you and act on it. You were born to have a career in beauty and your next step is to get the kind of professional training that will take your skills to the next level and help you land your first real job in hair, makeup, nails, or skincare. At Florida Technical College, cosmetology school is made easy.
You can enroll in cosmetology at three of Florida Technical College's campuses in the state: Deland, Kissimmee, or Pembroke Pines. You also get a choice of when you take your classes and the ability to fit them in around your existing schedule. Florida Technical College makes it easy for working adults to go back to school and for those who qualify they also assist with financial aid.
If a beauty career is your dream, now is a great time to start making that dream a reality. Why hold on to that dead-end job that you have no passion for? Contact Florida Technical College today to find out more about the cosmetology school and how you can get enrolled and on your way to a better future.