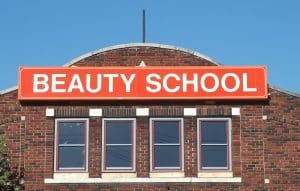 When you think of the beauty industry, of who is enrolling in cosmetology programs, you probably picture a woman as the typical student and worker in this industry. That may be true, but that fact is changing. Cosmetology is not just for women. Men are growing in the industry and making a big impact. If you are a man interested in hair, barbering, makeup artistry or even nails, there is a place for you in the beauty industry and in beauty colleges.
Stereotypes are changing and that's good for everyone. Having more men in the beauty industry means adding new perspectives to an ancient art. Men have as much of an ability and affinity for styling and creative beauty as women do and it's time to start breaking the stereotype of the typical person seeking a career in the beauty industry. There is major growth happening in beauty and cosmetology and there is room for men and women in this exciting and prosperous career.
Men Are Already Working in the Beauty Industry
While you may find yourself in the minority working in a salon or spa, you are not the first or the only man to go into cosmetology as a career. According to the Professional Beauty Association, the industry is diverse and becoming more so. In 2011, 16 percent of employees in the beauty industry were men and 29 percent of salons were owned by men. The number of men enrolling in cosmetology is growing and is expected to continue to grow. There are no limitations on what men in this business can do.
Join the Ranks of Famous Men in the Beauty Industry
While there are more men entering the cosmetology workforce than ever before, men working in the beauty industry is not a new phenomenon. In fact, some of the most famous hairstylists and makeup artists have been men. If you have a creative flair and an affinity for design, you could join the ranks of some of the most famous people in beauty, all men:
Men Are More Interested in Grooming and the Beauty Industry than Ever before
Hair, skin care and other forms of personal grooming have long been dominated by women. Women spend time and money on appearance and beauty, and for a long time men watched and wondered why. Now, though, men are joining in on it too. Personal grooming for men is becoming a booming industry. From 2009 to 2014 men's skin care has seen a huge increase in sales, over 50 percent according to CNBC. This means more men are interested in facial moisturizers, body moisturizers, facial cleansers, and anti-aging products than ever before. Personal care and beauty products aimed at men have increased around the world, with sales growing close to the $5 billion mark.
Another area of specialization in cosmetology colleges is also seeing a resurgence among male consumers: barbering. From 2007 to 2009 the number of barber shops increased by nearly 19 percent in the U.S. Beauty colleges are enrolling more students in their barbering programs as men demand more specialized care for their hair, both facial and on their heads.
The Beauty Industry as a Whole is Booming
More students of all types, both men and women, are applying for and enrolling in cosmetology, barbering, esthetics, nail, and makeup programs. The industry is booming and continues to grow unabated, which means that more makeup artists, hairstylists, nail designers and barbers of all types are needed to fill roles in spas, salons, as freelancers and as instructors at cosmetology colleges.
For the last decade or so, the beauty industry has been growing and there are no signs indicating that it will stop any time soon. Across four sectors in the industry, there has been steady growth, including a 47 percent increase in the sales at spas or salons that hire one or more employees.
Enrolling in Cosmetology Means Great Career Opportunities, for Women and Men
With the industry growing, it is no surprise that there are enough jobs and opportunities in cosmetology for everyone, including men as well as women. In fact, some spa or salon owners may want to diversify their staff with more men in order to reach out to the growing demographic of men interested in personal appearance and personal care.
According to the U.S. Bureau of Labor Statistics, there is plenty of room for anyone wanting a career in the beauty industry. The number of positions for barbers, hairdressers, and cosmetologists is growing faster than average job growth, at a rate of 10 percent. There are projected to be over 65,000 jobs added to the industry between 2021 and 2031.
A Career in the Beauty Industry Can Lead to Self-Employment
One in three beauty industry workers is self-employed. In 2015, nearly eight percent of working men were self-employed, a rate higher than that seen in working women. Self-employment is a great opportunity for anyone. For men who want to benefit from being self-employed, the beauty industry offers many opportunities. There are freelance hairstylists and make-up artists who work primarily at clients' homes and work on their own schedule, but there are also salon and spa owners for those who are even more ambitious.
The growth seen in the beauty industry over the last decade has been in all areas of the sector, but the biggest growth has been in what is called the non-employer sector. These are businesses that do not have employees, which include freelancers and independent contractors that specialize in hairstyling, makeup, nails, and other areas of beauty. This sector of the industry grew by 116 percent over the last decade.
Enrolling in Cosmetology Programs
Clearly, now is a great time to enroll in programs at beauty colleges and to work toward a career in this industry, both for women and for men. Programs exist for cosmetology, but also for specializations, including barbering, makeup artistry, hairstyle and design, hair coloring, facial and skin specialists, and nail specialists.
The beauty school at Florida Technical College (FTC) offers programs in all of these fields of the beauty industry and most are offered at multiple campuses across Florida. Most of these programs take twelve months or less to complete and include plenty of expert classroom instruction as well as hands-on practice to prepare students for careers in this high-demand industry.
Florida Technical College also offers many other advantages for men and women interested in enrolling in beauty colleges. There are multiple campuses to choose from, flexible class schedules for working students and those with family responsibilities, small class sizes with experienced instructors, and assistance with finding a career and a position upon graduation. As a man, now is a great time to get into the beauty industry. To get started you only need to enroll in a program like those offered at Florida Technical College. Contact our beauty school to get more information about your options.
*These examples are intended to serve only as a general guide of possible employment opportunities. There are many factors that determine the job an individual may obtain, and Florida Technical College cannot guarantee its graduate any particular job. Some positions may require license or other certifications. We encourage you to research the requirements for the particular position you desire.