Partner Award Two Years in a Row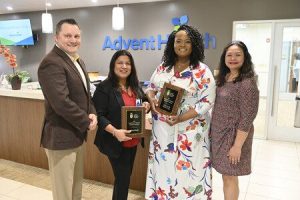 ORLANDO, FL. (March 24, 2023) — AdventHealth has once again received Florida Technical College (FTC) Distinguished Allied Health Partner of the Year. The award is presented to a community partner to honor and recognize their commitment, vital role and outstanding contribution to the professional development and career advancement of FTC Allied Health Program students.
"The partnership with AdventHealth gives our students the opportunity to put their skills into practice and get structured feedback from world-class experts," stated Dr. James Michael Burkett, president of FTC. "This transformative experience has shaped our students and will impact countless others as they begin their careers and deliver skilled, compassionate care to patients in and around our community. At FTC, we are proud to be shaping the health care workforce of the future."
"As AdventHealth continues to plan for the health care needs of our community, it's important that we also plan for the workforce that will care for our community for years to come," said Dr. Eric Deshaies, Chief Physician executive of AdventHealth Medical Group (AHMG) in Central Florida. "Medical assistants are a key part of the care team that provides whole person care in Central Florida. Partners like Florida Technical College help us make sure we'll have the workforce in place to continue that care into the future."
The partnership is a framework for collaboration that leverages expertise and resources to train the new generations of health care professionals.
"The team of compassionate caregivers at AdventHealth Centra Care locations across Central Florida includes physicians, advanced practice practitioners, medical assistants and more so that we can be there whenever someone in the community needs us," said Robert Paswaters, Vice President and COO of AdventHealth Centra Care. "We appreciate our relationship with Florida Technical College and the ability to work together to shape the future of medical assisting for our community."
Dr. Paswaters, along with Centra Care Director of Nursing Kimberly Graham, AHMG Clinical Education Senior Manager Quisha Moorer, and AHMG Education Program Coordinator Areli Cataquet accepted the 2022 award at Centra Care's administrative offices in Maitland, Florida.
The FTC Leadership Team selected the Distinguished Partnership Awards' honorees, including AdventHealth, based on the significant and positive impact they have on the lives of FTC students and the community at large. For more information on university partnerships, please contact MaryAnn Sewell, Vice President of Strategic Business Development at msewell@ftccollege.com.
About FTC: Founded in 1982 to provide private, post-secondary education in specialized fields, NUC University – Florida Technical College is an academic unit of NUC University (NUC), which is accredited by the Middle States Commission on Higher Education (MSCHE), 3624 Market Street, Philadelphia, PA 19104. (267-284-5000) www.msche.org. The MSCHE is an institutional accrediting agency recognized by the U.S. Secretary of Education and the Council for Higher Education Accreditation (CHEA). NUC – FTC offers diploma, associate and bachelor's degree programs in a range of professions, including Healthcare, Construction Trades, Hospitality, Beauty, Information Technology and Business. NUC – FTC campuses are located in Orlando, Kissimmee, Lakeland, DeLand, Pembroke Pines, Cutler Bay and Tampa. Program availability varies by campus.
About the AdventHealth Central Florida Division: AdventHealth's Central Florida Division encompasses 18 hospitals and ERs in the six counties in and surrounding metro Orlando. The world-class hospitals, combined with a comprehensive outpatient care network, have more than 3.4 million inpatient encounters and more than 5.7 million patient visits annually.
AdventHealth also has an expansive research portfolio in Central Florida, with more than 500 clinical trials and studies in progress.
The organization has a deep commitment to serving the community and has a local financial impact of more than $1 billion annually. AdventHealth and its employees are responsible for nearly 20 percent of Central Florida's economy.
AdventHealth Orlando has been recognized by U.S. News & World Report, Newsweek, Centers for Medicare and Medicaid Services, and the Leapfrog Group.