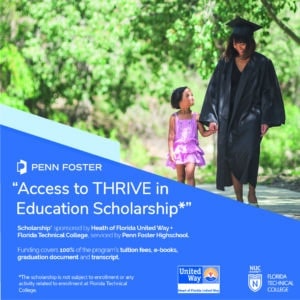 ORLANDO, Fl. 14 de septiembre de 2022 – A partir de hoy, los adultos que deseen iniciar, retomar o terminar sus estudios secundarios en Estados Unidos podrán hacerlo gracias a la beca "Access to Thrive in Education Scholarship" creada por Florida Technical College y Heart of Florida United Way.
A través del proyecto colaborativo se otorgarán 177 becas de estudios a trabajadores que deseen obtener su título de escuela secundaria y prosperar en la fuerza laboral. Los interesados en solicitar la beca deben haber terminando el octavo grado y presenter su solicitud antes del jueves, 30 de octubre de 2022. Las becas estudiantiles serán otorgradas a las primeras personas que soliciten y cumplan con los criterios de eligibilidad.
"Esta nueva iniciativa educativa es parte de la filosofía institucional de FTC", enfatizó el Dr. James Michael Burkett, Presidente de Florida Technical College. "Queremos brindar oportunidades a hispanos para que puedan transformar su vida y la de su familia, así como también impactar positivamente su comunidad. La beca cubre el 100% de los gastos de educación y les permite a los participantes en obtener su diploma sin afectar sus responsabilidades familiares o laborales, ya que las clases las toman en línea de manera remota".
"Estamos conscientes que la educación es la clave para impulsar la movilidad", dijo Jeff Hayward, President & CEO de Heart of Florida United Way. "Nuestro deseo con este proyecto colaborativo con FTC es poder empoderar a los estudiantes para que puedan avanzar y mejorar su calidad de vida – de manera inmediata y para las próximas generaciones."
El programa gratuito de escuela secundaria es provisto por Penn Foster High School, una institución educativa acreditada a nivel regional y nacional. La beca cubre los gastos de estudios, libros electrónicos, cuota de graduación, transcripciones y tarifas asociadas al programa.
"Esta beca busca ayudar a los hispanos a superar desafíos personales y cualquier tipo de obstáculos que le impiden progresar en su carrera y en la vida," añadió Dr. Burkett.
De acuerdo a un estudio publicado el pasado año por American Institute for Research,  las deficiencias del sistema educativo K-12 son palpables. El reporte indica que 26 millones de estudiantes no obtuvieron su diploma de cuarto año y un 40% de los adultos en Estados Unidos no domina el idioma inglés básico, factores que afectan sus posibilidades de conseguir un buen empleo.
Para más información acerca de la beca, por favor visite: "Access to Thrive in Education Scholarship" https://ftccollege.com/pennfoster/.
About FTC: Founded in 1982 to provide private, post-secondary education in specialized fields including Healthcare, Construction Trades, Hospitality, Beauty, Information Technology and Business. NUC – FTC campuses are located in Orlando, Kissimmee, Lakeland, DeLand, Pembroke Pines, South Miami and Tampa. Program availability varies by campus. NUC University (NUC) is an accredited institution and a member of the Middle States Commission on Higher Education (MSCHE) www.msche.org. NUC's NUC University – IBC Technical Division (NUC-IBC), NUC University – Florida Technical College (NUC-FTC), and The Digital Animation & Visual Effects School (The DAVE School) are included in this accreditation. NUC's accreditation status is Accreditation Reaffirmed. The Commission's most recent action on the institution's accreditation status on 2019 was to reaffirm accreditation.  MSCHE is an institutional accrediting agency recognized by the U.S. Secretary of Education and the Council for Higher Education Accreditation (CHEA).
About Heart of Florida United Way
Heart of Florida United Way (HFUW) is Central Florida's most comprehensive health and human services charity and the largest provider of funds to the region's most critical health and human service programs. In 2019-20, it raised and managed more than $34.7 million in total resources, including $29.5 million raised for the Community Fund that invests in dozens of vitally important programs in the community throughout Orange, Osceola and Seminole counties. HFUW fights for the health, education and financial stability of every person in Central Florida. It operates United Way 211, Central Florida's information and assistance, crisis, suicide and referral helpline; Volunteer Resource Center and the Ryan White program, which administers nearly $3.2 million to provide HIV/AIDS services and referrals. HFUW impacts more than 400,000 individuals annually through its direct service and funded programs. United Way partners with local businesses, government, other charities to increase awareness of local health and human service issues and to inspire hope, provide options and create possibilities for people in need. Visit www.HFUW.org for more information, or call (407) 835-0900. Follow us on Facebook at Heart of Florida United Way and on Twitter and Instagram @hfuw.