To address the current construction workforce crisis, and keep its commitment to provide an education for students to contribute effectively to their community, FTC has created the Build Florida Scholarship to support those wishing to pursue a career in construction trades.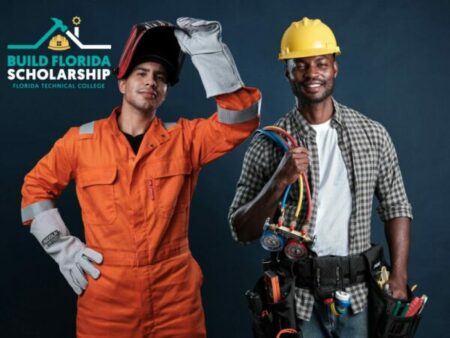 ORLANDO, FL June 20, 2022 — Florida Technical College (FTC) announced the creation of its Build Florida Scholarship, a scholarship dedicated to eligible students enrolling in any of its Construction Trades programs. The scholarship is available to all FTC campuses throughout the state.
The Build Florida Scholarship offers a new incentive for students considering pursuing a career in the construction field. The FTC Construction Trades Division provides the opportunity for students to gain the necessary skills to diagnose situations, and gain successful employment within this industry. FTC offers a bachelor's in construction management, and diploma programs in Electrical, Electrical with PLC, HVAC/R with PLC, HVAC/R, and Welding. Diploma programs are taught in English and in Spanish.
"The construction worker shortage has reached a crisis level in the nation," said Florida Technical College President, Dr. James Burkett. "The Build Florida Scholarship aims to establish a pipeline of qualified, skilled trade professionals across the state, assuring employers that a local and diverse workforce has the industry-specific skills to fulfill their organization's needs. Most importantly, this new scholarship will expand higher education access to members of our community who may have been on the fence about pursuing a career in construction trades."
According to the Associated Builders and Contractors association, the construction industry will need to attract nearly 650,000 additional workers on top of their current hiring pacefor2022. Additionally, the organization expects an estimated 1.2 million construction workers will leave their jobs for other industries by the end of the year.
To qualify for the Build Florida Scholarship applicants must meet the following criteria:
Be Enrolled in any of our Trades Programs with a start date of June 27, 2022
Must remain continuously enrolled in that Diploma or Bachelor's degree program until completion
Maintain a satisfactory academic progress
Be current on all financial obligations to FTC
To request more information, please visit www.ftccollege.edu/buildscholarship.
FTC will evaluate and determine whether a student continues to qualify for the Build Florida Scholarship at the end of each term. A qualified student will receive the Build Florida Scholarship in the form of a retroactive disbursement of $200-$333 (depending on the program) per term up to the maximum amount awarded, not to exceed the amount of tuition and fees that was to be financed by debt and charged to the student for the applicable program, after first applying for any other financial assistance. FTC will not issue refunds to a student as a result of receiving the Build Florida Scholarship. Rather, the Build Florida Scholarship will be proportionately reduced to avoid a resulting credit balance.
About Florida Technical College
Founded in 1982 to provide private, post-secondary education in specialized fields. NUC University (NUC) is an accredited institution and a member of the Middle States Commission on Higher Education (MSCHE) www.msche.org. NUC's NUC University – IBC Technical Division (NUC-IBC), NUC University – Florida Technical College (NUC-FTC), and The Digital Animation & Visual Effects School (The DAVE School) are included in this accreditation. NUC's accreditation status is Accreditation Reaffirmed. The Commission's most recent action on the institution's accreditation status in 2019 was to reaffirm accreditation. MSCHE is an institutional accrediting agency recognized by the U.S. Secretary of Education and the Council for Higher Education Accreditation (CHEA). FTC offers diploma, associate, and bachelor's degree programs in a range of professions, including Healthcare, Construction Trades, Hospitality, Beauty, Information Technology, and Business. NUC – FTC campuses are located in Orlando, Kissimmee, Lakeland, DeLand, Pembroke Pines, Cutler Bay, and Tampa. Program availability varies by campus.