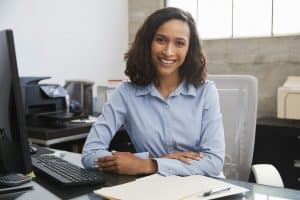 Did you know that Microsoft Office is one of the most widely used tool in business? After nearly three decades, it is considered fundamental for use by most people, including high schoolers and entrepreneurs alike. Every day, people rely on Microsoft Office to perform their duties and meet their goals. You may craft engaging presentations on PowerPoint, write important documents in Word or manage finances and schedules through Excel. Regardless of what field you work in, Microsoft Office has vital tools you'll need to succeed. 
How do you prove your knowledge in Microsoft Office? An easy way to do this is to get certified in the Microsoft Office suite of software. Earning your Microsoft Office certification can give you an advantage in this competitive job market. Being able to manipulate the programs in Microsoft Office like a pro makes you a much stronger candidate for many positions, including roles in sales, management, marketing, business, and accounting.

Is It Worth Getting Microsoft Office Certified?

It is worth getting a Microsoft Office certification, because employers are always looking for candidates who demonstrate initiative and dedication. Also, being certified in a suite of fundamental software means less on-the-job training for employers. 
Earning your Microsoft Office certification allows you to better understand how the Microsoft Office programs work together, what their specialized roles are and apply them in more powerful ways in your line of work. And through re-certification, you can easily stay up to date on the latest versions of the software and learn all the latest features. This helps you stay modern and avoid falling behind your competition.

What Are the Different Programs in the Microsoft Office Suite?

Microsoft Office contains five programs, which include Word, Excel, Outlook, PowerPoint, and Access. Each one has a specific use case, however utilized together they are even more powerful. The Business Office Specialist diploma program at Florida Technical College focuses on the most used tools in the suite, including Word, Excel, and PowerPoint.
Microsoft Word
Word is the world's leading word processor. It allows you to type simple documents, create detailed visual reports, organize schedules, and create newsletters. Thanks to a powerful built-in design software, you can also use templates to easily design professional reports and other documents with ease. 
Microsoft Word also allows you to insert spreadsheets, tables, and graphs directly from Excel, which is helpful when visually representing important data to colleagues. The ability to cross-collaborate with other programs makes this fundamental software even more flexible. 
On the Microsoft Word certification exam, you demonstrate your basic knowledge as well as intermediate and advanced techniques for creating and modifying a variety of documents. You will showcase your abilities to make Word meet a few use cases and projects.
Microsoft Excel
From enterprise financial reports to research lab findings, Excel is a spreadsheet software with incredible mathematical abilities. Using various commands, you can manipulate figures, project financial outcomes, and perform a variety of statistical operations all within the software. If you plan to work in business, accounting, or research, knowing how to use Excel is essential. The operations people use every day in Excel power some of the most important data-driven results in businesses throughout the world. 
On the Excel certification exam, you will prove your ability to use Excel as a scheduling software, mathematical formula spreadsheet and inventory management tool for small businesses, freelancers, and a variety of other practices. Knowing how to create, manage and update spreadsheets is a useful skill and one that employers are actively looking for.
Microsoft PowerPoint
PowerPoint allows you to create visual presentations for shareholders, clients, colleagues, or a wider audience online. In education, teachers use PowerPoint to create presentations they will use in class. In business and marketing, a PowerPoint presentation can relay important financial information, reveal a new product, report quarterly or annual performance, display a brand style guide, or outline a campaign. 
The Microsoft Office certification includes a PowerPoint exam that evaluates your knowledge of the PowerPoint design environment and your ability to utilize various tools; from inserting videos and images to importing graphs from Excel, there are several ways that PowerPoint helps translate data from other Microsoft programs into a visual presentation. 

How Do You Prepare for the Microsoft Certification Exams?

During a Business Office Specialist diploma program, you learn the basics, intermediate and advanced techniques in all Microsoft Office programs. You may join with moderate experience or be a complete beginner who has only ever used Word or created a presentation with PowerPoint. 
Whether you are just starting your career, hoping to advance in your profession or changing career fields, a diploma in our Business Office Specialist program is an easy and convenient way to get the knowledge and skills employers look for.

What Are the Benefits of a Business Office Specialist Program?

Choosing a business program to learn about Microsoft Office is a great way to prepare for your career. There are many benefits, from a complete curriculum to a diverse student body, taking the time to study for the Microsoft Office certification exams will serve you well when it comes time to find a job or get a promotion.
Benefit #1:  A Complete Curriculum Aligned with Industry Standards
The curriculum for this diploma program is designed with emerging technologies in mind. We prepare you to use the suite of Microsoft Office software. We have also developed a curriculum that not only aligns with the exams but employer expectations as well; after you complete the diploma program, you are well-equipped to not only take the certification exam but work with confidence in the Microsoft Office programs. 
Benefit #2:  Lessons from Industry-Experienced Professional Instructors

Our Business Office Specialist diploma program is taught by experts with years of industry experience. They know what you need to get certified and what features are most important for professional success. Our instructors are passionate about technology and helping empower you through education. 
Having access to professionals can make it easier for you to decide where you want to take your own vocation; many students are inspired by their instructors to go into a specific field of work. Instructors can also give you advice on your strengths and help you set goals you're able to achieve. 
Benefit #3:  A Diverse Student Body of Like-Minded Learners

Our program welcomes everyone who is willing to learn; you can interact with a variety of people from different jobs, ages, and education levels. Some people are seeking to advance their career while others are training to enter the workforce for the first time.
If you are worried about age or experience affecting your success, put your mind at ease. Everyone is welcome, and our classrooms provide an inclusive environment for learners of every skill level to thrive. 
Benefit #4:  An Accessible Syllabus for All Skill Levels
Because learners come from all backgrounds, there are some who will already be fluent in Microsoft Office. Within a study group, you can help one another fill in the gaps to prepare for the Microsoft Office certification exam. 
The use of real-world exercises ensure that you pick up the skills most useful to you. If you are already using Microsoft Office in the workplace, you will learn plenty of features that can be applied immediately to your job. Those who are building their resume with new skills will feel more confident in their ability to meet their employer's needs. 
Benefit #5:  One-on-One Instruction and Small Class Sizes
Small class sizes give you more space to converse with your instructors, ask questions and learn through a variety of exercises. Instructors check each student's progress, and offering one-on-one guidance when it's needed. If you ever have any questions, your instructor will be there to answer them and use examples to make sure you fully understand the knowledge you need to complete the diploma program.

Jobs Available after Graduation

Someone who wants to use their diploma to get a job has many options available. You may decide to apply what you have learned as a freelancer and work as a writer, virtual assistant, or marketer. You may qualify for work as an administrative assistant, applying both technical knowledge and communication skills to keep an office or professional's schedule running efficiently. 
Secretaries, medical receptionists, customer service representatives and marketing assistants all benefit from having the Business Office Specialist diploma. Office managers must have a variety of qualifications to oversee employees, delegate assignments and collaborate with different people. Being able to seamlessly move between one Microsoft Office program to another will make your work more productive. 

Final Thoughts

Are you ready to become a business office specialist? Florida Technical College offers diploma programs to prepare you for your first day in a new office career. With FTC in your corner, you are sure to be prepared with the confidence and knowledge you need to succeed.

Business Office Specialist Diploma Program

Now that you know that a diploma is worth getting, ready to learn more? The Business Office Specialist diploma program prepares you with the knowledge and necessary skills to perform various business operational functions using office equipment and computer software to manage technical administrative tasks in multiple office environments. You will develop customer service, problem-solving, and communication skills to function appropriately in an office environment.
Ready to move from the classroom to a career? Florida Technical College is here to help. Contact us to learn more about completing the information technology degree program at Florida Technical College.