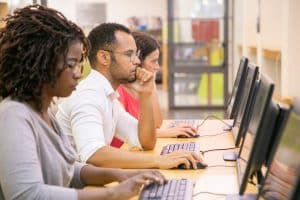 CompTIA is one of the most famous names in IT. The non-profit provides vendor-neutral IT certifications in a wide range of subjects and in a variety of different countries. The company is especially notable for its ability to continually update the exams to ensure its certifications retain high industry relevance. Add in a notorious level of difficulty for the exams and it's easy to see why CompTIA certifications are held in such high regard within the IT industry.
Anyone who's earned a CompTIA certification has more than demonstrated a strong grasp of the subject matter. What's more, the breadth and difficulty of those exams mean that the CompTIA certification holders can tackle extremely difficult tasks in pursuit of their goals. All these reasons and more make CompTIA certification holders a valuable commodity within the IT industry. Most employers see any CompTIA certification as a sign that a job applicant has a lot to offer.
But with that in mind, how do the various CompTIA exams compare to each other in terms of difficulty? Will earning one certification make it easier to pass the exam for another? And are some of the most expansive certifications, such as Network+ or Security+, harder to earn than a highly hardware focused certification like A+? To answer these questions, we need to delve a little deeper into the nature of the three biggest CompTIA certifications – Network+, Security+ and A+.

An Overview of the A+ Exam

Both CompTIA's Network+ and Security+ exams are harder than the A+ exam. But the overlap between these exams can change how we relate to them. However, to understand that we need to take a closer look at each individual exam.
Easier Doesn't Mean Easy
While the A+ exam is easier than the others, it's important to note that easier doesn't necessarily imply easy. The A+ exam is a notoriously difficult exam for even experienced professionals to pass. As is often the case with CompTIA's exams, much of the difficulty comes from the sheer scope of the subject.
IT Fundamentals
We should take a step back and really consider how many different technologies are at play within any given IT related workspace. A typical web hosting company with a data center is a good example of a larger IT service. Think about how many different technologies are at work within a hosting service.
IT Workstations
The main office of such a company will have dozens of workstations for IT technicians working in support roles. They'll usually work on phones, use desktop computers, and run remote sessions that interface with the servers. This requires them to understand modern telephony, desktop computer hardware and software, server interfaces and diagnostics.
IT Architecture
IT technicians working with the servers will also need to understand their specific elements. This involves the unique architecture which differentiates servers from desktop systems. They'll need to understand multiple server-based operating systems.
Routers and Servers
Routers play an important part in these environments. The data centers will use a wide range of advanced routers. These may well run advanced operating systems of their own which need special study. On top of that, employees will need to understand how cloud-based solutions and virtualization work within such an environment. Any given server might only have the inherent physical characteristics as a base of its overall complexity. The servers might in turn run anything from a virtualized process to a full cloud computing environment.
Mobile IT
Finally, even mobile devices and operating systems play a role in data centers and web hosting environments. An IT technician will usually need to understand how in-house solutions and apps intended for customers factor into the process. This is especially noteworthy when we consider that smartphones went from little more than entertainment to a daily necessity within just a handful of years.
However, this is all just scratching the surface of what's covered on the A+ exam. It should be clear at this point that A+ certification says a lot about someone's skillset. But now we can take this a step further and look at how the Network+ and Security+ certifications might work within that same environment.

An Overview of CompTIA Security+

Security+ is, of course, a complex topic. But we can simplify things by thinking of it as a method to add extra security precautions to everything covered in the A+ exam. We noted that the A+ test examines operating systems that run on servers, desktops, and mobile devices. Security+ considers each of those operating systems and asks how to best harden them against any form of digital attack.
We find a similar relationship to any other topic covered by the A+ exam. In general, we can take any subject on the A+ exam and ask how to implement security precautions on top of it. The answers constitute much of the material found in the Security+ exam. However, there's a lot more to consider when looking at Security+.
Cyber Security
Cyber security has grown at a rapid pace as the world moved to a more digitally focused model. It's not enough to simply have security options within any given system. We also need special tools to search for more obscure threats. This too is a topic covered on the Security+ certification exam. We need to understand the basic model behind the most popular security software as well as how to use it. This includes monitoring for threats and tracking them down to a specific source.
It's important to keep in mind that the security measures covered by Security+ are just as extensive as the hardware covered in A+. Someone with A+ certification can explain every component within a computer. Likewise, someone with Security+ certification can explain how various security precautions protect those same systems.
The wide scope of CompTIA's exams is one of the reasons why so many employers look for certified employees. The CompTIA certification shows that applicants understand both the theory and practice behind various pieces of technology. Meaning, they're able to easily grasp new technologies that might be unique to a particular workplace.

An Overview of CompTIA Network+

Network+ also shares some significant subjects with A+. A common theme in our example of a hosting company came from communication between different areas. Any given digital component would need to relate to the others in some way. This is all done through a network.
The basics of a Network+ certification relate to this type of functionality. When we consider how to link a computer in tech support with a web server within the data center, we're looking at areas covered by Network+. Network+ also overlaps quite heavily with Security+. This is most readily apparent when looking at network monitoring solutions.
Network Monitoring
Network monitoring typically involves looking at basic traffic patterns. For example, we might note that increased input/output functions on a server are driving its resource usage high enough to pose stability problems. But this is also quite similar to the methods used to monitor security risks coming from outside sources. For example, a common method to attack servers involves overloading them with automated requests.
At this point we're seeing a common pattern begin to become more apparent. Network+ and Security+ both build on a foundation laid down in A+. At the same time, Network+ and Security+ also have ties to each other.

How to Become CompTIA Certified

An easy way to learn everything that you will be tested on within the CompTIA certification exams is to complete a degree in information technology with an emphasis in cybersecurity. This degree program will prepare you for job roles including computer and information systems manager, computer systems analyst, information security analyst, software developers, and computer network architect.
In addition to the CompTIA certification curriculum, you will also learn about computer programming, programming with Python, routing and switching, security fundamentals, LAN analysis and design, Windows professional, server and network infrastructure, virtualization and cloud management, Linux administration, information assurance, network hardening, cyber laws and compliance, social network security, cryptography, intrusion detection, digital forensics, and ethical hacking. This curriculum will not only prepare you for the CompTIA certification exams but also prepare you for a long and fruitful career in information technology and cybersecurity.

Final Thoughts

Now that you know that the CompTIA Network+ and Security+ exams are harder than the A+ exam, it is time to prepare with a degree program in information technology. Florida Technical College will prepare you for a career in IT and support you throughout your career with services to find you jobs and advance your career to new heights. With FTC by your side, you will thrive.

Information Technology Degree Program

The Bachelor Degree program in Information Technology with emphasis in Cybersecurity introduces you to a variety of topics, such as assessing the security vulnerability of computer and network systems, various computer and network safeguarding solutions, and managing the implementation and maintenance of security devices, systems, procedures and counter measures. As a graduate of the program, you will be prepared for a career as a developer of security design, information assurance, computer forensic investigator, ethical hacker, and/or any digital security related jobs.
Ready to move from the classroom to a career? Florida Technical College is here to help. Contact us to learn more about completing the information technology degree program at Florida Technical College.
These examples are intended to serve only as a general guide of possible employment opportunities. There are many factors that determine the job an individual may obtain and NUC University – Florida Technical College (NUC-FTC) cannot guarantee its graduate any particular job. Some positions may require license or other certifications. We encourage you to research the requirements for the particular position you desire.