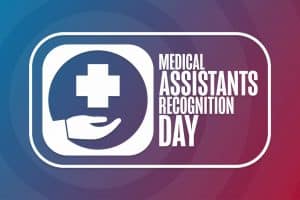 Every third week of October, healthcare providers across the country recognize medical assistants. But it's not a private party. You, too, are invited to participate. Join us as we celebrate National Medical Assistant Day.
What Is National Medical Assistants Day?
National Medical Assistants Day recognizes the many contributions medical assistants make to the healthcare field. An annual event, it's part of the Medical Assistants Week celebration.
Do medical assistants deserve a day of recognition? You bet they do, and here's why.
Why Are Medical Assistants So Special?
Medical assistants manage a broad range of clinical and administrative responsibilities in office settings. Allied health professionals, they serve as liaisons between patients, colleagues, and licensed healthcare providers. Their work includes:
Managing schedules
Triaging phone calls
Rooming patients
Taking vital signs
Updating health histories
Assisting with exams
Administering medications
Performing diagnostic tests
Drawing blood
Billing and coding
Infection control
Patient education
Recordkeeping
Without medical assistants, critical tasks would fall through the cracks.
National Medical Assistants Day celebrates more than practical achievements. It also recognizes   that medical assistants support their patients, peers, and communities. Medical assistants are:
Ambassadors of First Impressions
Medical assistants are the first members of the clinical team to welcome patients. The warmth and professionalism with which they approach patients set the stage for a positive experience and promotes trust.
Patient Advocates
Medical assistants are a patients link to their physician. They answer phone calls and triage symptoms so that doctors can effectively prioritize care. The first to identify patients' needs, medical assistants are their foremost advocates.
Healthcare Navigators
The healthcare system is growing increasingly complex. Medical assistants serve as guides, helping physically and emotionally vulnerable people navigate the clinical, administrative, and financial challenges of treatment. Serving as l , they're the friendly faces and helpful hands patients can count on in tough times.
Client Educators
Medical assistants are frontline educators, helping patients better understand their doctor's recommendations. Whether it's explaining the referral process, or presurgical instructions, medical assistants are approachable, go-to sources of clinical and clerical information.
Skilled Technicians
Medical assistants are jacks-of-all-trades, trained to perform diagnostic tests that once required a trip to the hospital. Patients save time, hospitals maximize resources, and doctors get the data they need fast.
Team Players
Medical assistants are full members of the healthcare team. Consummate multitaskers, they work hand-in-hand with doctors, nurses, administrators and colleagues to provide top-quality patient care. No job is too big or small.
Lifelong Learners
Like other healthcare professionals, medical assistants need continuing education credits to stay certified. It's how their skills remain relevant in a rapidly changing industry.
However, it's only through a commitment to lifelong learning on their own time that medical assistants stay on top of the latest developments. It's just one more way they demonstrate their dedication.
Difference Makers
Among the hundreds of healthcare providers patients may interact with, few have as much impact as medical assistants. Neither as knowledgeable as doctors nor as hands-on as nurses, they nonetheless affect patients' lives at the ground level. Their authenticity is rarely forgotten.
The History of Medical Assisting
Medical assisting is a growing field, but it's not a new one. A recognized profession since 1956, its roots trace back to the latter part of the 19th century. Loosely regarded as clinical assistants, their job was to be all-purpose helpers to busy doctors. However, as medical practices evolved, so did their role.
By 1955, calls for formalized training grew, so a group of medical assistants from Kansas City took the lead. They established the American Association of Medical Assistants (AAMA) in 1956, becoming the first and still the only organization dedicated to improving the profession.
Florida Technical College graduates are certified with another prominent association designation, the National Certified Medical Assistant (NCMA) from the National Center for Competency Testing (NCCT).
What does the future hold? Today, medical assistants have ever-expanding roles in private practices, hospitals, clinics, and other medical facilities. And as their qualifications grow, so do their opportunities. The U.S. Bureau of Labor Statistics projects a 16 percent increase in demand for medical assistants through 2030. There's never been a better time to join the healthcare field.
How Do You Become a Medical Assistant?
Some medical assistants have associate's or even bachelor's degrees, but the fastest and most efficient way to become a medical assistant is by enrolling in a vocational school medical assistant program. A lifestyle-friendly alternative for adults with at-home responsibilities, it's the ideal way to pursue your career goals without sacrificing a paycheck for two or more years.
Full-time students graduate with entry-level skills and are prepared for certification in as little as ten months. With career services as part of the bargain, it's among the best values in modern education.
Final Thoughts
Whether you're a grateful healthcare professional or a satisfied patient, this October 23rd presents another opportunity to say thank you to the special medical assistant in your life. Let your appreciation show.
Ready to join the frontlines as a medical assistant? The Medical Assistant Technician Diploma Program is designed to prepare you to obtain entry-level employment as a medical assistant technician. This program offers you the opportunity to learn the necessary knowledge and skills both in the classroom and in a capstone class        You will learn how to prepare patients for various technical examinations such as EKGs and phlebotomy, as well as how to perform several such procedures.
Ready to move from the classroom to a career? Florida Technical College is here to help. The Medical Assistant Technician program is offered at our Deland, Kissimmee, Lakeland, Orlando, Pembroke Pines, South Miami, and Tampa campuses. Contact us to learn more about completing the medical assistant technician diploma program at Florida Technical College.
* These examples are intended to serve only as a general guide of possible employment opportunities. There are many factors that determine the job an individual may obtain, and Florida Technical College cannot guarantee its graduate any particular job. Some positions may require license or other certifications. We encourage you to research the requirements for the particular position you desire.