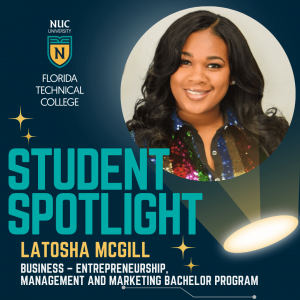 Latosha Mcgill is one of our Business – Entrepreneurship, Management and Marketing Bachelor's students.  She started with us back in May 2022 at our Pembroke Pines location and has made straight A's so far (4.0 GPA).  Here she shares more details about her journey so far:
What has been your secret to success in your education so far?
I don't really look at my success journey as a secret because I'm big on sharing opportunities with those in need. I will say what drives me is wanting better for myself and completing tasks as they come along.
What motivated you to start your Bachelor's in Business?
Well, I've had plenty of businesses since graduating from high school and all though those businesses were great successes, I still felt there was something missing. I felt there was so much more information that I could be incorporating into my plans. So after the Pandemic happened, I promised myself that I would execute this opportunity and Not give up.
What is your goal for your career?
My goal is to become a Serial Entrepreneur. I know it takes hard work, dedication, and education. This is one of the many steps to get me closer to that goal.
What is the biggest obstacle you have overcome during your time in school?
To be honest, before I signed up for school I let it be known that I did not want any barriers to get in my way of completing something so major to me. With that being said, I sat down with my husband and children and we came up with a plan so that way I could have time to focus on school and time for family. Because of that I am able to thrive the way I should.
What is one piece of advice you would share with new student just getting started?
I would say, to get your affairs in order now that way you can set your self up to have a successful journey in school. Start planning now what it is that you want from your program of study and start working towards that goal.
What is your favorite thing you have learned so far?
I would say my favorite has been the importance of branding. You never know just how much branding is important until you dig into your Marketing classes.
Is there anything else you would like to share on your journey?
I would like to say, Never give up! Even if you have a to take a short break, NEVER give up. Remember why you started and understand that "A Goal without a Plan, is just a Dream."