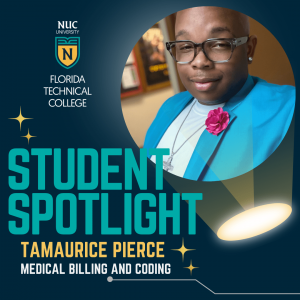 Tamaurice Pierce started the Medical Billing and Coding diploma program in March 2022.   He has maintained straight A's in his program so far (4.0 GPA) and is expected to graduate in November this year!   Below are some details he shared about his journey so far:
What has been your secret to success in your education so far?
My secret in my education so far has been trusting in myself and my ability to succeed in life no matter what obstacles is thrown my way. 
What motivated you to start your Medical Billing and Coding program?
What motivated me to start this program is I used to work as a front desk associate at my previous job and I helped out the biller/coder with her work to try and relieve some stress off of her. I used to collect the superbills at the end of the day and send her the soap notes with the correct Coding and all she would have to do is send the claim to the insurance. I did it for 2 years and the codes just stuck in my head. Now I'm at my new job explaining coding to fellow co- workers. 
What is your goal for your career?
My Goal for this career is to be able to bill and code for a hospital, and to be able to work from home. Also may want to start my own billing and coding company. 
What is one piece of advice you would share with a new student just getting started?
Advice I would share with a new student getting started is just to be consistent. Although it may seem rough, or you may be busy doing a lot of things, there is always a brighter outcome. There were many times where I wanted to give up but I had to push myself and to realize that I want to make it and I want better for myself.
What is your favorite thing you have learned so far?
My favorite that I have learned so far is how to fill out an Insurance Claim Form. I thought that it was going to be hard, but my teacher explained in a way that could be understood. 
Is there anything else you would like to share on your journey?
I can truly say that you are who you want to be. Don't let anyone despise your thoughts. All it took for me was a thought and stated to myself get up and go back to school and do something you love. You have to do what makes you happy, not make anyone happy, but make yourself happy and be proud about your accomplishments.