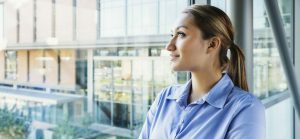 The healthcare industry is growing. From doctors and nurses to administrative support specialists, top healthcare talent is in demand. But these frontline heroes need gifted leaders behind the scenes who can bridge the gap between the health and business ends of medicine. If you're ready for a challenge, a degree in allied health management could put you at the helm of a medical facility. 
Why Does Someone Become a Healthcare Administrator? 
Medicine is an exciting field, but clinical care isn't for everyone. Still, helping others is something many feel called to do, and the good news is, candidates with an aptitude for administration can contribute just as much to providing quality care as medical professionals.
Business and medicine are inexorably linked, and it takes people who understand both to manage the intricacies of healthcare. If you like analyzing data, crunching budgets and working with others to solve problems for the health of your community, getting a degree in allied health management could be just what the doctor ordered. 
What Does a Healthcare Administrator Do? 
Healthcare administrators manage the delivery of medical services. They're the creative forces behind the long-term strategic planning and financial success of healthcare facilities from hospitals to nursing homes. Job descriptions vary, and a degree in allied health management qualifies graduates for leadership positions in areas from human resources to community relations. An average day on the job as a healthcare administrator might include these responsibilities:
Creating departmental or institution-wide budgets

Managing human resources

Grant writing or fund solicitation

Strategic planning and goal development

Ensuring regulatory compliance

Drafting facility policies 

Streamlining operational procedures

Developing marketing and community outreach plans 

Overseeing supply logistics 

Conducting audits

Creating disaster preparedness plans

Addressing labor grievances

Evaluating new technology

Working on capital improvement projects

Reporting to trustees

Preparing financial reports
What Can You Do with an Allied Health Management Degree?
There are opportunities for qualified healthcare administrators in a broad range of settings, such as: 
Hospitals

Nursing homes

Rehabilitation facilities

Clinics

Health insurance companies

Home healthcare agencies

Private practices 

Hospices

Correctional facilities

Medical research laboratories 

Pharmaceutical companies

Public health departments
As a new graduate, you'll have to work your way up the ladder while learning the ropes, but with experience and continuing education, the sky's the limit. Seasoned administrators can even become instructors, sharing their knowledge with a new generation of managers. 
What Skills Do Students Learn in an Allied Health Management Degree Program? 
Degree programs in allied health management teach many essential skills like leadership, business acumen, communication, flexibility, critical thinking, motivation, technical savvy, legal knowledge, and a moral compass. Having a sound set of skills will help you become a successful healthcare administrator.
Skill #1: Leadership Skills
Healthcare administrators are leaders, they need vision. It's their job to peer into the future, anticipate trends and marshal the required resources to meet challenges and lead their institutions.
The allied health management degree program teaches those skills in the classroom through group projects and real-world experience, pairing students with the best administrators in the field. Graduates are prepared to take what they have learned and cultivate it through experience. 
Skill #2: Business Acumen
Doctors make life-and-death decisions that affect the body, but healthcare administrators make the procedural calls on issues that could mean financial success or failure for their facilities. 
Successful managers need a fundamental understanding of business models to assess changing trends and make the necessary decisions to balance the clinical and fiscal needs of their employer. Allied health management degree programs offer training in accounting, finance, medical law and community relations, but a background in any type of business is a plus. 
Skill #3: Communication Skills
Healthcare administrators are in constant communication with people from diverse cultural and socioeconomic backgrounds. In any given week, a healthcare manager may have to share a bad financial forecast with shareholders, mediate labor complaints, or handle a natural disaster that leaves their facility and patients vulnerable. 
Despite being dealt the toughest challenges, they're expected to be relationship builders. As the face of their institution, they represent owners, employees and senior management in the community, so effective communication skills are critical. 
Skill #4: Flexibility
Healthcare evolves at breathtaking speed and innovation is always on the horizon. It's an exciting job but keeping pace with continual change is challenging. For a healthcare administrator, the willingness to change with the times and challenge the status quo is a must for keeping their organizations ahead of curve. 
Skill #5: Critical Thinking Skills 
Healthcare managers are problem solvers, they're the go-to professionals for sound thinking in difficult times. They're called upon to make thoughtful, assertive policy decisions based on fact and their ability to draw logical conclusions. Called critical thinking, it's less of an aptitude than a skill, one that an allied health management degree program student can hone in the classroom and build on in the field. 
Skill #6: Motivational Ability
The best leaders don't command; they motivate their team to put forward their best effort. Recognizing the strength in diversity, they urge others to be creative and give them the space they need to develop ideas based on their unique expertise. It's never easy but promoting trust among staff and colleagues is the key to engaging and inspiring others to commit to projects at the organizational level. 
Skill #7: Technical Savvy 
Administrators don't need to be technical experts, but they should understand the role of technology in medicine and how the latest advances fit into their institution's strategic plans. 
Leaders need to assess new developments, understand their application, and know whether they make financial sense for their hospital or nursing facility. Communities expect the best in cutting edge care, but fiscal challenges can leave organizations vulnerable if they're underutilized. As a healthcare administrator, you'll do the cost and demographic analyses necessary to answer the hard questions. 
Skill #8: Legal Knowledge
Healthcare is a highly regulated field, and nearly all decisions have a legal component. Administrators aren't expected to be lawyers, but they should understand how federal rules affect medical organizations and how policies and procedures should be crafted to avoid legal disputes. 
Allied health management degree programs review a number of legal topics in-depth, from ethics to labor law. Students leave with the knowledge they need to make sound decisions. 
Skill #9: A Moral Compass
Medicine is a people industry, so decisions typically have both practical and moral implications, and leaders are often asked to make decisions that are too subjective and emotional for comfort. 
Having a strong moral compass, an objective standard against which to measure right and wrong beyond legal means, is critical across all healthcare sectors. 
Final Thoughts 
Careers in healthcare administration offer both professional rewards and challenges, but jobs are expected to increase 32 percent in the next ten years, according to the U.S. Bureau of Labor Statistics. For students looking for a future-forward career, the time to pursue an allied health management degree is now.

Allied Health Management Program
Ready to start working toward your allied health management degree? The Bachelor's Degree program in Allied Health Management is comprised of a combination of courses providing skills such as managing the administrative area within a health services organization, medical law/regulations, and current procedural coding with health information resources. The program is designed to prepare a student for a career as an administrator in the health services field.
Ready to move from the classroom to a career? Florida Technical College is here to help. Contact us to learn more about completing the allied health management degree program at Florida Technical College.
These examples are intended to serve only as a general guide of possible employment opportunities. There are many factors that determine the job an individual may obtain and NUC University – Florida Technical College (NUC-FTC) cannot guarantee its graduates any particular job. Some positions may require a license or other certifications. We encourage you to research the requirements for the particular position you desire.*