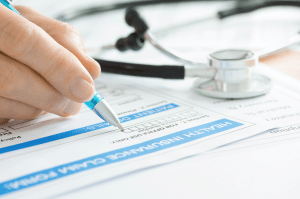 Any Google search will tell you that there are a fair amount of choices when looking for a medical billing and Coding program.
Are you searching for a medical billing and coding program that fits your schedule, offers flexibility, career services and the opportunity to apply for student aid? It can be overwhelming to try and figure out which one is best for you. To help you narrow it down, here are 9 questions to ask before you commit to a medical billing and coding program:
Question #1: How comprehensive is the program?
Every medical billing and coding program will teach you the basics. But you want a comprehensive background in procedural codes and diagnostic codes (make sure they cover ICD 10, CPT & HCPCS II). Make sure the program offers medical office procedures, medical terminology, health information resources, and coding. In addition, you'll want training in anatomy and physiology, and you'll want some exposure to medical law and medical ethics. Why anatomy and physiology when you don't treat patients? It goes back to the procedural and diagnostic codes. You will need to understand the body functions, terminology and the procedures that nurses and doctors perform. This will allow you to better code insurance claims, so claims don't get denied. The program should also have an externship or capstone course to get real world experience before starting your entry-level position.
Question #2: Does the program teach any other skills?
Aside from comprehensive training in medical billing and coding, you're going to want other skills as well. A good medical billing program will teach you computer skills, office procedures, customer service techniques and more. Computer skills are important because you will be using software like Microsoft Office, medical databases and electronic health records (EHRs). Office procedures will help you manage your office responsibilities like filing, handling mail and preparing budgets. Customer service is always important because you will be interacting with patients, and they should have a good customer experience.
Question #3: How flexible is the program?
 Are there day, evening and weekend classes? Is there an online option? Flexibility is important for you to have a better experience in the classroom and keep a positive work/life balance. Many students have responsibilities that they must attend to while they are working toward their diploma or degree and the flexibility of day, evening and weekend classes can help. Small class sizes are also beneficial for medical billing and coding students to get one-on-one attention from instructors. These small classes also allow you to create long lasting bonds with fellow classmates.
Question #4: Where is it located?
It may not be a great idea to choose a medical billing and coding program entirely for its location. But it certainly can be an important consideration. Especially since so many students already have jobs and/or family obligations. Find out how long it will take you to get to class, and if there are public transportation options. Florida Technical College offers the medical billing and coding program at five campuses in Florida; DeLand, Cutler Bay, Kissimmee, Orlando and Pembroke Pines.
Question #5: Is financial aid available?
 If you need help with tuition (and who doesn't?) make sure you ask about financial aid packages and payment options. Make sure you contact the financial aid office before you decide on a school, because you'll want to know how helpful they are!.
Financial aid is available for those that qualify. To apply for financial aid, you must complete the standard forms, provided by the Financial Aid Office, for the programs currently offered. In the case of federal programs under Title IV, the Free Application for Federal Student Aid (FAFSA) can be obtained by completing an application online at www.fafsa.ed.gov. The financial aid department can remind you of important deadlines and help you apply for federal aid and scholarships.
 Question #6: What kind of degree will I get?
 Does the school's medical billing and coding program offer a certificate or an associate's degree? Either choice may be right for you, but find out what your options are. An associate's degree may allow you to continue onto a 4-year program if you want to. Florida Technical College offers both a certification diploma and degree program.
Question #7: Is there a career services department?
 The better schools not only have a good academic medical billing and coding program. They also have ways to help guide you through the job search process. Look for a program that can help you with important tasks like getting your resume together and writing a killer cover letter. Find out if the program has connections with local firms that hire medical billing specialists.
Question #8: Can I talk to an actual human?
 Take a campus tour. And it won't hurt to ask if you can talk to current students and alumni. The more information you have, the better your chance of finding the right fit. When you make contact with a school, make sure you ask about these options.
Question #9: Is the School Accredited & Licensed?
Most employers and association certifications look for graduates from accredited and licensed schools. A license or accreditation means that the school meets high standards of a credible third-party licensing board. Florida Technical College is licensed by the Florida Department of Education Commission for Independent Education (CIE).
Medical Billing and Coding Program
Do you still have questions about the Medical Billing and Coding program at Florida Technical College? Don't worry, we can help. The Medical Billing and Coding Specialist Diploma Program is designed to prepare you to obtain an entry-level positions in the medical billing and coding field through a combination of both clinical and administrative training. You will learn and practice how to use management software and electronic health records (EHR). You will further become proficient in medical insurance and billing using the ICD-10, CPT, and HCPCS II coding system manuals. The program is focused on preparing you for certification.
Don't wait any longer and contact Florida Technical College today! Your new career as a Medical Billing Specialist is just a call away! Let our Admissions team answer all your questions.