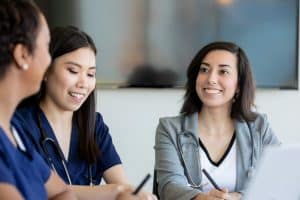 The healthcare industry is expanding, for students, that's good news. Two popular career options, nursing and allied health management, offer secure, rewarding futures. Let's take a closer look at how these roles differ and why becoming a nurse isn't the only way to make your mark as a healthcare professional.
What is Allied Health Management?
Allied health management is a broad-based field serving the community in a wide range of medical settings. It's an excellent career choice for students with a passion for health in these key administrative areas:
Healthcare policy
Strategic planning
Marketing and communication
Medical law and ethics
Business development
Human resources
Organizational leadership
Health information systems
The Allied Health Management degree program prepare students for employment as healthcare administrators and leaders.
What Are the Similarities and Differences between Nursing and Allied Health Management?
Nursing and allied health management professionals have a lot in common. They're both dedicated to patient well-being and the success of their employers. Also, their roles occasionally overlap. You'll notice both similarities and differences in these realms:
Work Setting
Nurses and allied health administrators work in similar environments, including*:
Hospitals
Clinics
Doctor's offices
Nursing Homes
Hospices
Home health agencies
Correctional facilities
Insurance companies
Public health departments
Allied health administrators may also find opportunities at*:
Research laboratories
Drug companies
Health-related non-profit organizations
Responsibilities
A nurse plans, directs and performs patient care, their role is primarily clinical.
Allied health managers work exclusively in an administrative setting, handling responsibilities that support the clinical staff, from hiring and budgeting to disaster planning and supply logistics.
Education
Registered nurses need a two-or four-year degree, however, the national trend is for acute care RNs to have at least a bachelor's degree. Nurse educators need a master's or doctorate. Only a vocational school diploma is required to be a licensed practical nurse, but work settings are limited to facilities with stable patients, such as nursing homes and doctor's offices. Every state requires a professional license to practice.
Allied health managers typically have bachelor's degrees. Programs cover topics including:
Healthcare administration
Research and statistics
Financial management
Healthcare policy
Medical law and ethics
Human resources and labor relations
Organizational behavior
Marketing
Communications
Information management
It's a well-rounded educational experience that equips graduates for a wide variety of administrative positions. Some may require a license, but most don't.
Job Market
Changing demographics are creating an unprecedented demand for medical services, millions of Baby Boomers are on the verge of retirement and will need care. Job openings for nurses are projected to grow at least 9-percent in the next decade, according to the U.S. Bureau of Labor Statistics.
Jobs for allied health administrators are poised for similar growth. The U.S. Bureau of Labor Statistics projects an increase of nearly 32-percent in the coming decade
At a time when jobs and even entire industries are disappearing, replaced by technology, the healthcare field continues to offer abundant opportunity.
Professional Growth*
Professional growth in the healthcare field requires continuing education, graduating from college is just the beginning. With experience, most nurses and allied health administrators opt to further their learning, building on their degrees with certifications or post-graduate studies.
Nurses with an associate degree need a bachelor's or higher to qualify for management positions. Specialty certifications from mental health to wound care opens doors. A masters-educated RN can teach, work as a clinical administrator, or with an advanced license, can be a nurse practitioner that treats medical conditions under the supervision of a physician.
A bachelor's in allied health management qualifies students for entry-level administrative positions. But while continuing education is a must to keep pace with changes in the field, higher learning is less necessary for advancement, in management, experience matters as much as education. A master's degree, however, can catapult candidates into leadership roles.
The good news for both nurses and allied health professionals is that employers are supportive of their team's educational goals. They're heavily invested in a well-trained staff to develop their organizations. Most contribute financially with institution-sponsored courses or tuition reimbursement.
Why Become an Allied Health Manager Instead of a Nurse?
Both nursing and allied health management careers have pros and cons. If you're not sure which is right for you, consider allied health management if:
You Have a Knack for Business
Business and health are inseparable. Without managers, clinical staff couldn't do their jobs. If you're a forward-thinking number cruncher with problem-solving skills, the allied health management community will be grateful to have you.
You Want a Wider Range of Opportunity
Today's adults will have more than one career in their lives. When nurses get bored, switching specialties helps, but their core responsibilities rarely change.
Allied health administrators have so many job titles to choose from that they can work in the same industry for a lifetime and never have the same role twice. If you're professionally restless and like to spread your wings once in a while, working in healthcare management offers never-ending challenges.
Personal Care isn't For You
Healthcare is an exciting field but providing direct patient care isn't for everyone. A role in health administration satisfies a need to help others, and it's equally valued. The work isn't as glamorous, you won't see many TV dramas dedicated to medical statisticians, but it's equally critical.
You Need a Regular Schedule
More than half of nurses have considered leaving the field over scheduling demands, healthcare never sleeps. Hospitals are staffed around the clock, and they don't close for holidays. And if a colleague calls in sick, someone has to work their shift. It's all for a noble cause, but it's stressful, and it takes a toll on family life.
Allied health managers might burn the midnight oil occasionally during tax season or when a big project is due, but most can expect a steady Monday through Friday schedule with weekends and holidays off. If you have other time-consuming responsibilities or crave a better work-life balance, a degree in allied health management is a perfect fit.
Final Thoughts
Education is an investment, so students should carefully consider how their degrees will serve them. Both nursing and allied health management are admirable, future-proof career choices, let your heart and your aptitudes decide.
Allied Health Management Degree Program

Ready to start working toward your allied health management degree? The Bachelor's Degree program in Allied Health Management is comprised of a combination of courses providing skills such as managing the administrative area within a health services organization, medical law/regulations, and current procedural coding with health information resources. The program is designed to prepare a student for a career as an administrator in the health services field.
Ready to move from the classroom to a career? Florida Technical College is here to help. Contact us to learn more about completing the allied health management degree program at Florida Technical College.
*These examples are intended to serve only as a general guide of possible employment opportunities. There are many factors that determine the job an individual may obtain and Florida Technical College cannot guarantee its graduate any particular job. Some positions may require license or other certifications. We encourage you to research the requirements for the particular position you desire.