KISSIMMEE, Fla., – Chef Luis Reyes and Karen Virguez both have a degree in Culinary Arts, but their jobs and daily responsibilities are very different. Reyes is an executive chef at Sysco, the world's largest food distribution company. He develops and tests recipes and products to help clients make the most out of them. Virguez, also a Sysco employee, is a sales and marketing executive serving the Hispanic restaurant and supermarket community across the Central Florida region.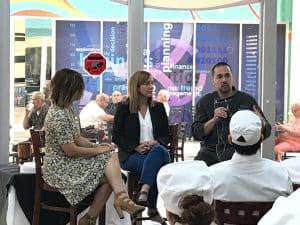 Reyes and Virguez were the guest speakers earlier this month at Florida Technical College's Influencers Series, which brings business and community leaders every month to the Kissimmee campus for frank conversations with students. The events are held at Zazón Café, a college-owned restaurant run by culinary arts students and instructors.
"The possibilities of a career in the culinary industry are endless," said Reyes who got started in the business as a busboy in a restaurant in Puerto Rico. "From sales and marketing, to recipe and product development, to distribution logistics and management, these are all areas in which companies use the skills of individuals with culinary arts degrees."
Virguez, added that food companies, such as like Sysco prefer people with a culinary background in those positions because of what she calls the "relatable factor".
"After the economy crashed in 2007 Sysco hired realtors in sales positions," Virguez said. "The rationale was that they know how to sell. What a person with a culinary background brings to the table, which a realtor may not have, is the ability to relate to the customer through the knowledge of food. Sure, being able to sell is good, but being able to help the customer select the products that would best fit his or her needs and satisfy customers based on food knowledge is even better."
Both food industry pros shared valuable advice with FTC students on how to be relevant and successful in their industries and successful. Chef Reyes stressed the importance of reading to stay current on trends and changes in an ever-evolving industry. Virguez encouraged students to document their culinary creations with pictures and recipes and organize them in a portfolio, which then can bring with them to interviews to impress potential employers. She also advised that salaries should always be negotiated to ensure that pay is commensurable to the market pay range.
With six campuses statewide, including four campuses in Central Florida – Kissimmee, Orlando, Deland and Lakeland – Florida Technical College offers diploma, associate and bachelor degree programs in various fields as well as in the culinary arts. For information about upcoming Influencer Series events and speakers, follow FTC on Facebook at FloridaTechnicalCollegeFTC.
---
About Florida Technical College: FTC offers associate and bachelor's degrees and diploma programs in a range of professions, including healthcare, computer networking, graphic design, criminal justice, culinary arts and cosmetology.  FTC campuses are located in Orlando, Lakeland, Deland, Kissimmee, Pembroke Pines and Cutler Bay. Founded in 1982 to provide private, post-secondary education in specialized fields. Program Availability varies by location. Important information about the educational debt, earnings, and completion rates of students who attended this program is available at www.ftccollege.edu/disclosures.html