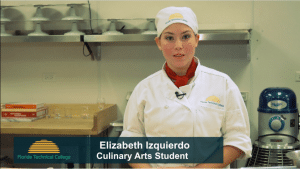 Before Elizabeth 
Izquierdo could reach the kitchen counter, she was measuring sugar and our and baking cakes with her grandmother.
The then-5-year-old understood the joy of cooking after concocting a Dominican sweet bean dessert called habichuelas con dulce.
Years later, Izquierdo entered college to become a special education teacher like her mother, but decided to switch careers in 2014 and enroll in Florida Technical College's Culinary Arts program to "pursue something I could wake up happy and joyful doing, and do every day," she said. She now creates key lime pies, flans, and lava cakes as the pastry chef at Mango's Tropical Café in Orlando.
"I followed my passion," said the 23-year-old, who spent 13 months in the culinary program, available only in the Kissimmee campus. "I learned so many different techniques and how to prepare foods from different cultures. I didn't just learn to cook, but also learned how the industry works."
FTC's Culinary Arts program doesn't resemble your grandma's home economics class. Students aren't just cooking a pot roast and decorating cupcakes. They're making pancetta, creamy custards and elegant sushi that rival menu items at five-star restaurants.
Eight instructors guide students through culinary classes, which include hands-on labs where students practice their cooking skills. Students learn cooking techniques and as they become more advanced, they move on to creating their own recipes and meal plans. Classes are small with an average of 20 students per class and 12 to 14 in each lab. They learn an array of skills that include baking, food production, creating nutritional meals and cooking international cuisine. They serve meals to the public at FTC's in-house restaurant, "Zazon Café," to practice and perfect every step of the dining experience.
The American Culinary Federation
Education Foundation (ACFEF), the most
prestigious professional organization for
chefs and cooks, accredits FTC's Culinary Arts program. The accreditation means graduates are experts in their eld and can land highly coveted culinary jobs in high- end kitchens.
The ACFEF's accreditation process is as rigorous as it is comprehensive. It recognizes the top culinary programs that meet or exceed industry standards for education and training. The ACFEF's seal of approval is given to programs with clearly de ned objectives, experienced instructors and facilities that develop superb culinary skills.
"This accreditation is a testament to the quality of our culinary programs, our faculty, and students," said FTC President
and CEO David Ruggieri. "We're developing top-notch professionals, ready to leave their mark on the hospitality industry and compete with the very best in the business in creativity and technique."
FTC's Culinary Arts graduates receive an ACFEF-Certi ed culinarian certificate in addition to their diplomas. They acquire cooking skills and learn how to plan nutritional meals, budget funds and manage kitchens.
"Employers everywhere recognize ACFEF as the culinary industry leader for educational resources, training, and accreditation because it enhances professional growth," said Alex Martínez, lead instructor in the Culinary Arts program. ''An FTC diploma coupled with an ACFEF Certi cate gives our students the winning edge in today's competitive job market."
More than 400 students have graduated from FTC's Culinary Arts program since it began in 2011. The college has helped many graduates successfully land jobs.
Its current placement rate is 90 percent.
For more information, visit  FTC's Culinary Arts Program,
By Terry Roen