In the first quarter of 2014, 78% of the U.S. population bought something online. Digital commerce is growing at a rate of 15%, and billions of dollars are spent on products and services every year. Online degrees are the future of business  so what better forum is there for business education?
Online degrees: The new face of business
Florida Technical College is launching a new online degrees  program designed to propel future business leaders into the next phase of their careers. With our online degree program, you can get a bachelor's degree in business entrepreneurship, management, and marketing. If you've been dreaming of something bigger for your life, this is the path for you.
The internet makes everything easier, and it's not going away. Despite movies like 'Neighbors' and 'Animal House,' your typical college student isn't necessarily a fresh-faced single man ready to move out of his parents' house and whoop it up in a dorm room.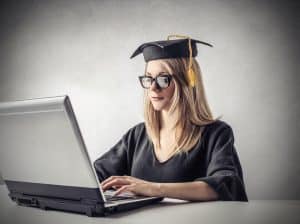 Today's college students are much more diverse: they're fathers, mothers, full-time employees, and caretakers for aging parents. In 2013, almost 40% of students enrolled in a degree-granting university were 25 or older. 38% of students were part time. If you're an adult learner, don't think you're alone. There are online degrees programs – like the Business Entrepreneurship, Management, and Marketing Program at FTC – made just for you.
Online degrees: the benefits
So how do we accommodate these 'atypical' students? Our online learning program makes it easy for you to learn anytime, anywhere. You don't have to try to schedule your classes around your work day, or skip your child's soccer game because you have to be in a classroom. With our Canvas learning platform, you can study on your phone, read textbooks on your iPad, and complete assignments when and where you want. What other benefits does an online program offer?
No commute. You can take your classes anywhere there's internet access. Want to go check out the business prospects in Aspen? Pick up and go – FTC will come with you!
No schedule. Some colleges claim to have flexible online classes, but you still have to log in at a certain time every day. At FTC, our classes are asynchronous – you can log in and complete assignments whenever you want.
Constant communication. Have a question? All of our business professors have MBAs, two have PhDs, and several own or manage their own companies. Your professor is available to you via email day or night. No more waiting in the hallway during arbitrary office hours!
Flexibility. We understand that there's more to your life than education. In fact, we think that those varied experiences you've had will be a big benefit as you embark on a career as an entrepreneur, marketer, or business maven. Our professors and classes are prepared to accommodate busy schedules and conflicting priorities.
It may seem like every entrepreneur out there is a hoody-wearing twenty-something who started a giant company from their parents' garage, but that's just not the case. In fact, the average entrepreneur is 40 when they launch their business. When it comes to business success, age is just a number.
Whether you took a brief hiatus after high school or you're a retiree ready to embark on your second career, the FTC online degree program in business can help you turn your dreams into reality. Don't put it off any longer. Change your life today.
RELATED ARTICLES: