ORLANDO, Fla., October 11, 2019 — The Orlando Business Journal rewarded Florida Technical College for its commitment in advancing diversity and inclusive excellence within education by awarding its president at the 2019 Diversity in Business Awards on October 11. The Diversity in Business Awards honor Central Florida organizations operating in Orange, Seminole, Osceola, Lake, Brevard, and Volusia counties in a variety of industries that have demonstrated excellence in all areas of equality, including age, disability, gender, sexual orientation, race, and religion.
"Florida Technical College welcomes and celebrates diversity," said Dr. James Michael Burkett, FTC president. "Being included in the Orlando Business Journal's second annual Diversity in Business Awards truly signifies that our institution is inclusive and welcomes everyone to pursue their education comfortably and freely."
In its 37-year history, Florida Technical College has always aimed toward inclusivity. Eighty-four percent of the institution's student body is comprised of minority groups (57% Hispanic, 22% African American and other groups, and 5% other minority groups). Furthermore, the institution has dedicated resources to serve minority communities. For example, FTC awarded 25 scholarships to displaced Puerto Ricans in Florida after Hurricane Maria ravaged the Caribbean island in 2017.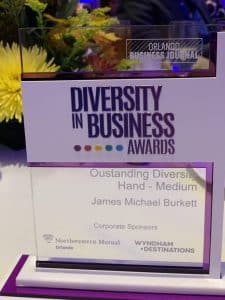 Florida Technical College was among 15 Orlando businesses that were honored at the publication's second annual Diversity in Business Awards. Other honorees included construction engineering company Burns & McDonnell, healthcare company Central Florida Health Alliance, and the Orlando Science Center.
Learn more about our programs.
About FTC: Founded in 1982 to provide private, post-secondary education in specialized fields, Florida Technical College is an academic unit of National University College (NUC), which is accredited by the Middle States Commission on Higher Education (MSCHE), 3624 Market Street, Philadelphia, PA 19104 (267) 284-5000. The MSCHE is a regional accrediting agency recognized by the U.S. Secretary of Education and the Council for Higher Education Accreditation. FTC offers associate and bachelor's degrees and diploma programs in a range of professions, including healthcare, construction trades, business, information technology, culinary arts, and beauty. FTC campuses are located in Orlando, Kissimmee, Lakeland, DeLand, Pembroke Pines, Cutler Bay, and Tampa. Program availability varies by campus.