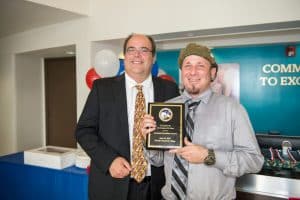 A group of 26 U.S. Armed Forces veterans was recognized earlier last month at Florida Technical College Pembroke Pines for their academic excellence and their efforts to make a successful transition into the civilian labor market. The students received plaques and medals during a campus reception attended by community and business leaders.
FTC was recently named one of America's best colleges for veterans by G.I. Jobs Magazine, a national publication dedicated to helping former military personnel explore careers and post-secondary education options.
"We are fully committed to our veterans and are making sure their sacrifices and needs are not forgotten," said Muriel Gutierrez, FTC Pembroke Pines Executive Director. "We admire their tireless efforts to learn new skills and sharpen their knowledge so that they may rejoin civilian life as productive citizens. Adapting to life outside of the military can be challenging for veterans returning from active service. Yet the group we honored has persevered and managed to maintain high GPAs."
Whereas military service is challenging, demanding, and dangerous, returning to civilian life also presents difficulties for the men and women who have served in the military. A Pew Research Center survey of 1,853 veterans found that while more than 72% of veterans stated that readjusting to civilian life was easy , 27% said re-entering was difficult; this ratio increases to 44% among veterans who served after the terrorist attacks on Sept. 11, 2001.
U.S. Army veteran Christopher Doss, 35, was one of the students recognized at the event. He was honorably discharged in 2013 after five years of service. Coming back into civilian society, Doss had to deal with many difficult situations, including homelessness. Yet, he attended classes daily, never veering away from the course toward a bachelor's degree in Information Technology Networking, Web Design and Programming.
"I lived in my car at times as I struggled to re-enter civilian life," Doss said. "But even at the most difficult moments I never lost sight of my education goal because I knew it would be my anchor. FTC faculty and staff helped me get my life back on track and for that I am grateful. They really go the extra mile to help veterans succeed in school and in life."
According to The Pew study found that graduating from college makes it more likely for veterans to have an easier time readjusting to life after the military than personnel who are still enlisted and those who have only obtained a high school diploma.  Because FTC understands the life-changing importance a college degree can be, it strives to provide students with the opportunity to succeed by offering them on-campus services such as academic advising, career services, and special events.
---
About Florida Technical College: FTC offers associate and bachelor's degrees and diploma programs in a range of professions, including healthcare, computer networking, graphic design, criminal justice, culinary arts and cosmetology.  FTC campuses are located in Orlando, Lakeland, Deland, Kissimmee, Pembroke Pines and Cutler Bay. Founded in 1982 to provide private, post-secondary education in specialized fields.
Program Availability varies by location. Important information about the educational debt, earnings, and completion rates of students who attended this program is available at www.ftccollege.edu/disclosures.html.