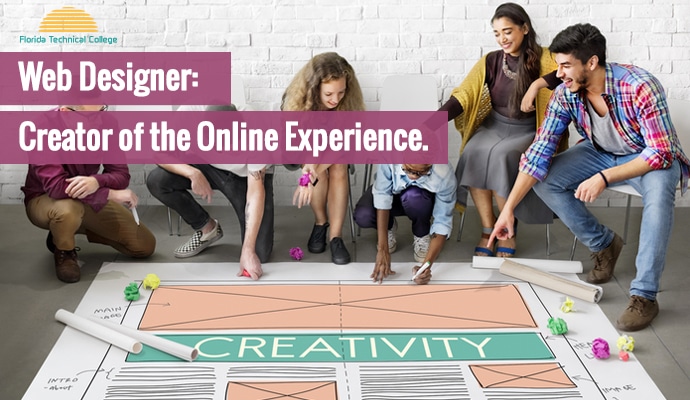 How often do you search or Google something from your mobile device? Probably 90% of the time, right? Google has already confirmed that most of their searches take place on a mobile device. This means that most websites have to look good on computer and a mobile device, and it is web designers that are responsible for making it happen. Whether it's a phone, tablet or computer, any device can be used without running into any type of inconvenience.
A web design education is where most people start off in this career, learning how to make responsive, attractive, and appealing websites for a variety of businesses and organizations. If you think you have what it takes to craft great websites, you may be ready for a web design college. On top of having a fun and creative career, your web design training will prepare you for a career that offers both job security and a great salary.
Web Designers Keep Visitors on the Site
Web designers are part of the growing demand for a technologically skilled workforce. They design and maintain websites for functionality and visual purposes. Web designers format the layout and graphics for websites. How a website is designed is a crucial factor in bringing in and keeping visitors.
A good web designer is able to direct the traffic of visitors through the use of graphics and web links. Web designers are a blend of technical skills with creative inclinations. With a web design education, you will learn the tricks that designers use all the time to keep your interest in a web page or to get you to click on links.
At Web Design College, Learn How to Help Companies Succeed
In these modern times, every business needs a website. A good website means having an online presence and being successful at getting and keeping customers. At the heart of the website, web designers are the talented professionals that expand the internet presence of businesses and even non-profit organizations and charities.
Charged with taking the clients' ideas and converting them into a website that fits their needs, web designers are important to the success of any business. When you go to a graphic design school, you learn what it takes to be this crucial cog in the machine that keeps customers coming back to a website and inviting their friends to visit too.
The optimization or creation of a website can mean an increase in revenue. For example, web designers ensure that businesses have websites at optimal operation settings. The speed of the web page alone can cost you twenty-five percent of your customer base. An effective web designer ensures fast load times for the most time-sensitive users.
Web Designers Are Strategic and Creative
A career in web design gives you the opportunity to be both creative and a problem solver. Your web design training will prepare you to both use your creative intuition and to be strategic about designing sites that are useful for businesses. Designers do more than just make websites look attractive. They also have to strategize and solve problems, such as making websites rank higher in search engines or convincing visitors to click on links and go on to explore the site further.
Advertisements and link buttons have to be placed strategically and the site has to be easy to navigate while also conveying the style and philosophy of business. Web design is an interesting combination of being creative and being strategic, and it presents a fun challenge for those willing to accept it.
With Web Design Training, Help Create Better Mobile Sites
With the vast number of websites that need to be maintained and the ones that have yet to be created, web designers have a promising future. Years ago websites were created with desktops in mind, but today with everything being done on mobile devices, web designers are needed to make sure that a website can be accessed on any device.
Customers are turned off by websites that haven't been optimized for mobile devices. It sends the message that a business is out of date and out of touch with modern technology. It's not enough to make sure that the site is readable online, either. As someone with a web design education, you will have the skills that employers and businesses need for crafting optimized and appealing mobile websites.
Where Web Designers Work
The world of web design is a big one and it comes with many opportunities for trained professionals. You may choose to work with a company as part of a team or you may decide to work for yourself as a consultant. The benefits of working for a company include steady work, a guaranteed income, and working in an office with other people.
You can also start out on your own after graduating from a web design college. You don't have to work for a company. This career is especially suited to freelancing, and according to the U.S. Bureau of Labor Statistics, one in seven web developers and designers is self-employed.
With your professional training and a portfolio of your work, you will be in a good position to launch a freelance career. It may not offer guaranteed work or pay, but it does open you up to a lot more flexibility. Freelancing means you can earn as little or as much as you want, depending on your needs and how much work you want to put into your small business. It also means that you can work the hours you want to work. You could work during the day while your kids are at school and be available for them in the evenings, for instance.
Starting a Career in Web Design
The internet is an integral part of most businesses providing opportunities for web design in many fields, from the design of fashion and retail sites to news sites, just to name a few. This versatile need is continuing to drive the high demand for skilled web designers. With the right web design training, you could be ready for this career and ready to present yourself as the perfect candidate for a great job.
After completing a graphic design associate degree program at Florida Technical College, you will have the technical skills needed to succeed in the field of web design. With limitless opportunities, web design may be the way to unlock the potential of your future. Enjoy a creative career that also harnesses technical skills, problem-solving, and the interesting challenge of interpreting a client's needs to create the perfect website. When you're ready to begin your web design education and ready to set off on a path to this new career, check out what Florida Technical College has to offer.