META, a teletherapy platform for online mental health services, provides students with confidential and easy access to mental wellness providers. Florida Technical College has become the latest institution of higher learning to offer the META mental wellness program to students.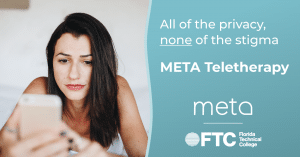 Coinciding with Florida's first lady Casey DeSantis' announcement regarding a $1.9 million emergency grant to support mental health, and May being Mental Health Month, this week over 3,000 FTC college students will have the ability to download the teletherapy smartphone app giving them easy, stigma-free access to licensed therapists from the comfort of their own home.
FTC students can connect to a national network of licensed counselors, therapists, and psychologists through META's free mobile app. Students download the app, choose a provider, and receive counseling through the privacy and convenience of their smartphones via chat, video, or voice calls. The platform provides students the freedom to choose a therapist who's a good fit, and the ability to reach them quickly and easily.
Dr. James Michael Burkett, President of Florida Technical College, stated "As students move forward with distance learning, we want to ensure they are getting the resources they need to be successful in all areas of their life, despite the disruption of the pandemic". Being isolated, dealing with financial stress, and taking care of their family adds to their mental workload. Our faculty and staff are always available to help navigate their situations and to provide guidance, but we want to equip them with all the resources available to assist with obtaining help for their mental, behavioral, and emotional needs."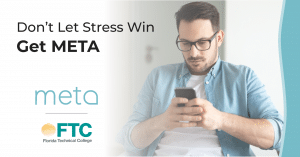 Mental health issues are a growing concern among college populations, especially since the coronavirus pandemic. According to a recent Active Minds survey, 80 percent of college students report that COVID-19 has negatively impacted their mental health and that they are struggling with stress, disappointment, and loneliness. Fifty-five percent of students reported they don't know where to go for immediate, professional mental health services.
META allows users to filter therapists by specialty, view provider video bios, and send chat messages before receiving counseling. Since the national pandemic, student engagement on META has more than doubled. Providers on META's network are available days, evenings, and weekends all year long to fit a flexible student schedule.
Download META Today at meta.app/students │833-844-META
About META:
META is the nation's first teletherapy app built specifically for college students. META offers real-time, video counseling with licensed mental health professionals from the privacy of an Android or Apple smartphone. META's mission is to circumvent the stigma surrounding mental health by offering users an easy way to receive counseling without having to visit an on-campus location. The app is free to download, and sessions can be paid for via credit card or insurance. www.meta.app
About FTC:
Founded in 1982 to provide private, post-secondary education in specialized fields, Florida Technical College is an academic unit of National University College (NUC), which is accredited by the Middle States Commission on Higher Education (MSCHE), 3624 Market Street, Philadelphia, PA 19104 (267) 284-5000. MSCHE is a regional accrediting agency recognized by the U.S. Secretary of Education and the Council for Higher Education Accreditation. FTC offers associate and bachelor's degrees and diploma programs in a range of professions, including healthcare, construction trades, computer networking, culinary arts, and cosmetology. FTC campuses are located in Orlando, Kissimmee, Lakeland, Tampa, DeLand, Pembroke Pines, and Cutler Bay. Program availability varies by campus.