A memorial plaque was presented to honor Raul's contributions in the new Raul Durant Culinary Arts Kitchen located at the FTC Kissimmee campus.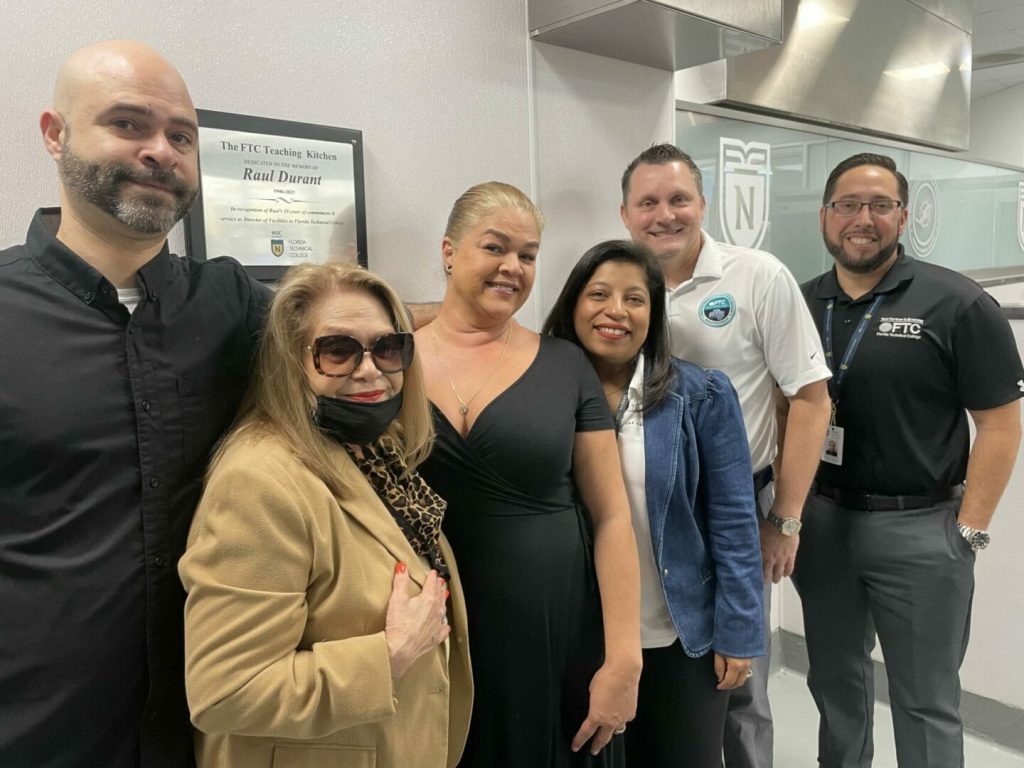 KISSIMMEE, FL—Friday, April 1st, 2020
Today, Florida Technical College (FTC) is honoring the memory of Raul Durant (1946-2021), Director of Facilities, who recently passed. Raul was known for his deep commitment to service and FTC's mission and values. Now, his legacy will live on with a memorial plaque in Florida Technical College's new Culinary Arts Kitchen—a facility he helped establish. The plaque reads, "In recognition of Raúl's 10-years of Commitment & Service as Director of Facilities to Florida Technical College."
An intimate ceremony was held on April 1st at the new commercial-grade facility located on the FTC Kissimmee campus. Faculty members, family, and friends were present to show their respects and acknowledge his years of service and loyalty to the college.
"Raul was steadfast in his commitment to students and FTC," stated Dr. James Michael Burkett, President of FTC. "He did not give up easily, which led to many successful accomplishments, the most recent being our brand new, Culinary Arts Kitchen Facility, aimed at enhancing the student experience and culinary learning environment at FTC."
The Teaching Kitchen in dedication to Raul Durant was unveiled in November 2021. This facility is just one of the many projects Raul managed and oversaw with his team.
Durant joined FTC in 2012 as the Director of Facilities, in which he supervised the expansion of FTC in Lakeland, Tampa and Orlando and physical campus operations, including all (7) campus buildings and grounds, to provide a safe, healthy, and comfortable environment for students, faculty and staff.
"Raul was extremely passionate about his work, and put his heart into everything he did," stated a Durant family member. "He was hardworking, determined and the most caring individual you could ask for on your team. We miss him every day, but we're so honored his legacy will live on for years to come."
---
About FTC: Founded in 1982 to provide private, post-secondary education in specialized fields, NUC University – Florida Technical College is an academic unit of NUC University (NUC), which is accredited by the Middle States Commission on Higher Education (MSCHE), 3624 Market Street, Philadelphia, PA 19104. (267-284-5000) www.msche.org. The MSCHE is an institutional accrediting agency recognized by the U.S. Secretary of Education and the Council for Higher Education Accreditation (CHEA). NUC – FTC offers diploma, associate, and bachelor's degree programs in a range of professions, including Healthcare, Construction Trades, Hospitality, Beauty, Information Technology and Business. NUC – FTC campuses are located in Orlando, Kissimmee, Lakeland, DeLand, Pembroke Pines, Cutler Bay and Tampa. Program availability varies by campus.