ORLANDO, Fla., Thursday, October 3, 2019 — Florida Technical College Orlando campus officially unveiled its new electrical diploma lab during a ribbon-cutting ceremony on October 3. The ceremonial event was attended by local leaders such as Tanisha Nunn Gary, president of the African American Chamber of Commerce Central Florida, Andrew Cole, president of the East Orlando Chamber of Commerce President, and Emily Bonilla, the Orange County Commissioner for District 5.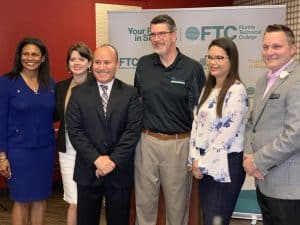 "The expansion of our electrical program is a direct response to the needs of the labor market," said FTC's president, Dr. James Burkett. "The need for electricians and qualified workers in this and other construction trades, continues to grow, fueled in part by a healthy economy. We have made it part of our mission to train workers for in-demand careers to facilitate the students' transition to the job market once they graduate."
The program schedule is taught in five-hour blocks, four days a week. The Electrical Diploma Program provides students with technical and practical knowledge to perform installation tasks, provide services, and repair residential, commercial, and industrial electrical systems. Graduates from this program will be able to fill positions as an electrician's assistant in residential and construction firms in the electrical trade industry. Students are eligible to sit for the Credential Craft Professional (NCCER) and OSHA 10 exams. The school's newly completed electrical lab measures more than 2,000 square feet and is located between two electrical classrooms to allow students to practice the academic knowledge they have acquired. There are two labs featuring simulated construction projects with electrical wiring, electrical boxes, and transformers to learn and practice residential and commercial electrical setups.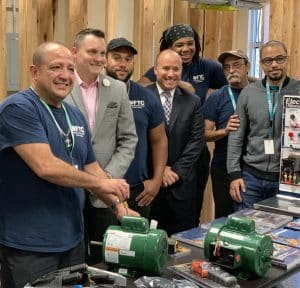 According to the Bureau of Labor Statistics, career opportunities available for electricians are projected to increase up to 9 percent by 2026. The federal agency states that, "increases in construction spending and a growing demand for alternative energy sources is driving this demand," the federal agency says.
Orange County Commissioner Emily Bonilla stated "I'm excited for this new opportunity for Florida Technical College students to learn a valuable trade that will benefit our county in the future," as she presented Florida Technical College a proclamation celebrating the college's grand opening of its new electrical program and lab.
FTC has flexible schedules at all its seven Florida campuses. The school is an academic unit of National University College, which is accredited by the Middle States Commission on Higher Education. Financial aid is available for those who qualify. For additional information or to register, call 321-684-4034.
Learn more about our Electrical program.
About FTC: Founded in 1982 to provide private, post-secondary education in specialized fields, Florida Technical College is an academic unit of National University College (NUC), which is accredited by the Middle States Commission on Higher Education (MSCHE), 3624 Market Street, Philadelphia, PA 19104 (267) 284-5000. The MSCHE is a regional accrediting agency recognized by the U.S. Secretary of Education and the Council for Higher Education Accreditation. FTC offers associate and bachelor's degrees and diploma programs in a range of professions, including construction trades, healthcare, information technology, business, hospitality, and beauty. FTC campuses are located in Orlando, Lakeland, DeLand, Kissimmee, Pembroke Pines, Cutler Bay, and Tampa. Program availability varies by campus.