HVAC training is a crucial way to start out in the field of heating, ventilation, and air conditioning. Working on these systems is a skill that must be learned, but once you do, you'll find yourself in demand. Learning through a trade program is a great start for beginners, but it's important to know what you're getting into. Find out how long it takes to get through HVAC training, the options you have for programs, all about certification, and what kinds of jobs you can expect to get with your diploma.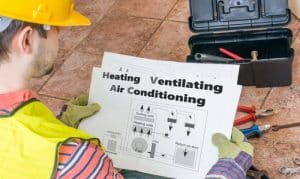 Learning a trade means having new career options that will always be in demand. HVAC technicians are always needed, and in fact, the number of jobs in this field is expected to keep growing over the next several years. To become a technician requires some type of HVAC training.
HVAC stands for heating, ventilation, and air conditioning, and technicians who can work on these systems are skilled workers. They install, make repairs, do electrical wiring, perform routine maintenance, replace parts, and connect HVAC systems to other components.
This kind of work is done in all buildings that have HVAC from the largest commercial high rises and warehouses to a typical residential home or tiny apartment. As HVAC systems evolve and technology changes, skilled, well-trained HVAC technicians are needed more than ever. If you're thinking about getting into this field, here is everything you need to know about HVAC training.
What is HVAC?
Heating, ventilation, and air conditioning are the systems that keep buildings comfortable and air healthy and free of pollutants. These systems work together to control indoor temperatures, humidity levels, and air quality. In other words, they provide climate control for all kinds of indoor environments.
The heating system, typically a furnace, heats air in a building, while an air conditioner cools it. The ventilation system is made up of the ducts that carry the warm or cooled air throughout a building. Both heating and cooling systems often include filters to remove particles from the air and humidifiers or dehumidifiers to control moisture in the air.
HVAC training prepares beginners to be technicians and to work with these systems. As an HVAC technician, you can expect to install systems using blueprints and technical drawings, inspect and perform maintenance existing systems, make repairs and change out parts, install and test controls and thermostats, connect HVAC systems to water lines and air ducts, and make recommendations for energy efficiency.
The Future of HVAC Jobs
HVAC systems are only getting more advanced, technologically, which means that HVAC training is becoming more important than ever. Important trends in HVAC include smart systems and thermostats, with more being connected to the internet, energy efficiency technology, and the use of mobile apps helping technicians to provide better service.
Steps to Becoming an HVAC Technician
If a career in HVAC sounds like the right choice for you, it's important to understand how you can begin. There is no single correct path to take, but there are some general steps you will need to work through in order to become a working HVAC technician:
Graduate from high school. The first thing you need is a high school diploma or equivalency certificate. This is a requirement for a beginner in this skilled trade and you won't be accepted into an HVAC program without it.
Find an HVAC training program. If you have that diploma in hand, you're ready to find your training program. A traditional way to get training is to apprentice with an experienced worker, but more often students are choosing a diploma program. You have a lot of options, but many employers may want to see that you completed HVAC coursework.
Complete an HVAC training program. Whether you choose a hands-on classroom experience or an apprenticeship, your next step will be to complete it. Many HVAC programs take as little as a year or less to finish, so you don't have to expect to spend years getting an education. 
Consider certifications. Not all states require certification or licensing for HVAC technicians, but it is something to consider. There are several options for types of certification, for example, the Environmental Protection Agency, or EPA certification for handling refrigerants. Decide which certifications you want to pursue and then you will be ready to hunt for your first HVAC job.
What is HVAC Training Like?
A smart way to start your HVAC career as a beginner is to choose an HVAC training program. These are programs that usually result in a certificate or diploma and that prepares you to pass certification exams. Most take less than a year to complete and involve classwork with hands-on training.
You can expect to learn HVAC skills from trained professionals who have worked in the field. They will teach you about safety, using tools, reading blueprints, construction drawings, and other technical drawings, basic math needed to work with HVAC systems, and basics of electricity, heating, and cooling.
In HVAC training you will also learn about the fundamentals of HVAC equipment, how they are designed, how they work, and how to install and connect them to other systems. Expect to learn how to troubleshoot problems and make repairs and how to improve the efficiency of different types of HVAC systems.
HVAC training programs should provide you all of this education and more by giving you direct instruction combined with hands-on practice. You can expect to be working on sample HVAC systems and using real tools to perform the actual tasks technicians do.
Where Can I Get HVAC Training?
While apprenticeship programs may be available to you to meet your training requirements, this is becoming less common. If you want to be an apprentice, you will have to reach out to HVAC companies and find out which ones offer this kind of training. More beginners are choosing higher education institutions like trade schools, community colleges, and other similar schools to get HVAC training.
Do I Need to Get Certified after HVAC Training?
Certification and licensing requirements for HVAC technicians vary by state. Some states require it and others do not. An HVAC program should prepare you to pass the examination if licensing is required, but there are other types of certifications you might want to consider as well.
EPA certification is required for any workers who will be handling refrigerant. This is often the case when working with air conditioning systems, and many employers make EPA certification a requirement for employees.
Another type of certification to consider is NATE or North American Technician Excellence certification. This is a national industry professional association that certifies technicians. This is not required, but it can indicate to employers that you are devoted to your new trade and understand what it means to be an excellent technician.
Career Outlook with and without Certification
The certifications above are not required for working as a technician after you complete HVAC training. You have a couple of choices. You can work toward certification, which may open up more job opportunities. You can also choose to get an entry-level job that includes some on-the-job training.
Either way, you can expect to find a job in HVAC as long as you have completed training. Certified technicians may have more options and the chance to earn more initially, but uncertified technicians can get there eventually with on-the-job experience.
HVAC Training at FTC
At Florida Technical College you can enroll in an HVAC training diploma program that will set you off on either technician career path. The program will prepare you to pass certification exams once you graduate, but will also prepare you to work in the field immediately if you prefer to get more experience before you consider certifications.
Trade diploma programs at FTC take nine months or less to complete. That means that in less than a year you could be ready to work in your chosen field and to start an exciting new career. You can also expect that at FTC you can choose your courses and schedule to work with your life. We know that most of our students are working adults and that many have families, so you have the flexibility to learn and study when it works best for you.
FTC is dedicated to preparing people for their future careers, which is why when you enroll in the HVAC program you get small classes, state-of-the-art equipment, and dedicated instructors who have worked in the field. We are also dedicated to making sure you find employment so you can count on career services to help you once you graduate. Contact FTC today to find out more about HVAC training and how you can get started.