08/09/2023
The Florida Association of Postsecondary Schools and Colleges Honors Sharon Rigaud with the 2023 Administrator of the Year Award
Florida Technical College VP of Student Financial Services Sharon Rigaud received the 2023 Administrator of the Year Award for demonstrating outstanding performance, providing exemplary support, encouraging excellence, and contributing to attaining institutional goals, according to the award criteria.
ORLANDO, FL., August 7, 2023 –The Florida Association of Postsecondary Schools and Colleges (FAPSC) has honored Florida Technical College (FTC) Executive Sharon Rigaud with the 2023 Administrator of the Year Award, the highest honor awarded by the organization to a higher education executive in Florida.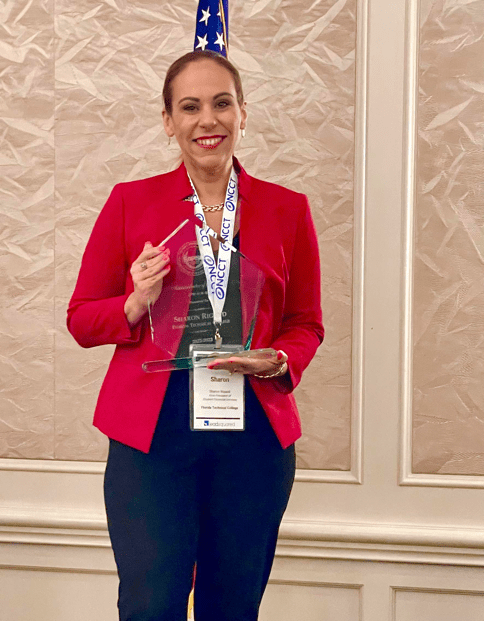 FAPSC annually recognizes leadership, dedication, and innovation in higher education. The Administrator of the Year Award recognizes a FAPSC member who has made significant contributions that enhance institutional productivity, efficiency, and quality by providing an exceptional commitment to developing and inspiring others to achieve extraordinary results while adhering to the highest standards of moral and ethical principles through personal and professional behavior.
Florida Technical College has set out to achieve bold new goals in building a strong talent pipeline in our state, and I am deeply honored to accept the Administrator of the Year award and to continue answering the call of higher education every day by helping students contribute, participate and benefit from Florida's thriving economy," said Rigaud, who serves as Florida technical College Vice President of Student Financial Services. "I'm proud of our achievements at FTC over the past several years and look forward to what we will continue to accomplish."
Since joining FTC in October 2019, the college has seen notable advancement in academic excellence, student success, and institutional visibility. Aware that higher education is a key pathway for social mobility in the U.S., Sharon has developed multiple strategic initiatives to better serve Hispanic students toward their future career success, especially female students. As a result, the enrollment rate among Hispanics has increased in every FTC campus, the highest compared to any other major racial and ethnic group.
A long-standing advocate for partnerships, Sharon has worked with the Hispanic Chamber of Commerce of Metro Orlando on many efforts to benefit the city and the Hispanic business community in the region, including a recent mission trip to Puerto Rico with Orange County Mayor Jerry Demings to explore business opportunities between both regions.
She also played a pivotal role in the effort to launch the "Access to Thrive in Education Scholarship," a program that offers a free high school completion program for parents hoping for a second chance to earn their diploma – building upon FTC's rich legacy of community programs to empower members from diverse cultural background to propel their education and career opportunities.
Her bold leadership and relentless tenacity for ensuring a more inclusive, diverse, and equitable student body were recognized in 2021 by the NBA Orlando Magic as one of their "Outstanding Latinx Leaders."
"As a first-generation U.S. college graduate, I've seen the impact of having Latino leaders in this field, and I'm committed to ensuring that more students see role models that look like them," stated the executive.
The Florida Association of Postsecondary Schools and Colleges (FAPSC) presented the awards during their Annual Conference on August 4 in Miami, Florida. FTC also received the 2023 Graduate of the Year Award, scoring two of the five awards given during the event.
Over the years, multiple organizations and publications have recognized Florida Technical College for their continued commitment to academic excellence, community engagement and diversity, equity and inclusion, and innovation efforts.
"FTC has grown tremendously since we opened our doors 40 years ago, but our commitment to our student's success remains the same as when we first started," added Dr. James Michael Burkett, President of FTC.
For more information about FAPSC Awards, visit: https://www.fapsc.org
About FTC
Founded in 1982 to provide private, postsecondary education in specialized fields, NUC University – Florida Technical College is an academic unit of NUC University (NUC),  which is an accredited institution and a member of the Middle States Commission on Higher Education (MSCHE) www.msche.org. NUC's NUC University – IBC Technical Division (NUC-IBC), NUC University – Florida Technical College (NUC-FTC), and The Digital Animation & Visual Effects School (The DAVE School) are included in this accreditation. NUC's accreditation status is Accreditation Reaffirmed. The Commission's most recent action on the institution's accreditation status on 2019 was to reaffirm accreditation.  MSCHE is an institutional accrediting agency recognized by the U.S. Secretary of Education and the Council for Higher Education Accreditation (CHEA). NUC – FTC offers diploma, associate and bachelor's degree programs in a range of professions, including Healthcare, Construction Trades, Hospitality, Beauty, Information Technology and Business. NUC – FTC campuses are located in Orlando, Kissimmee, Lakeland, DeLand, Pembroke Pines, Cutler Bay and Tampa. Program availability varies by campus.
About FAPSC
FAPSC currently works on behalf of all Florida's degree-granting and non-degree-granting career schools and colleges. Licensed by the state, Florida's career-focused schools educate and prepare over 250,000 students each year for employment in more than 200 occupational fields.  Organizationally, FAPSC is incorporated as a 501 (c) (6) non-profit corporation and guided by the laws of the State of Florida.