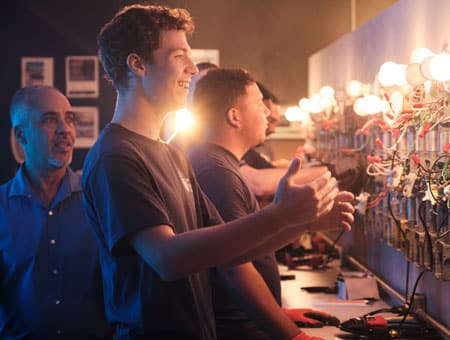 Future Start DateJanuary 08
Duration
9 months
Following the curricular sequence

In the Electrical Diploma Program, students will develop technical skills and practical knowledge within the electrical trade. They will perform installation tasks, services, and repairs. Graduates from this program will apply their acquired skills in the fulfillment of positions as electrical assistants within residential, commercial, and industrial enterprises associated with the electrical trade.

Outstanding Courses
Safety and Craft Skills

Introduction to Electrical Trades

Raceway Systems & Electrical Construction Drawings

AC & DC Motor Control

Circuit Breakers & Branch Circuits

Electrical Services & Transformers

Overcurrent Protection & Electrical Calculations

Electrical System Calculations


Fundamentals of Emergency & Renewable Energy Systems
Possible Employment Opportunities
Electrician's helper/Electrician's Assistant (residential, commercial, and industrial electrical systems)

Maintenance and Repair Worker

Electrical Service Technician
License or related certification
Students are eligible for certification of completion for:
OSHA 10 Safety Training Course
NCCER Core Curriculum
NCCER Electrical Level 1, 2, 3
Admission requirements
High School Diploma or a recognized equivalent
*These examples are intended to serve only as a general guide of possible employment opportunities. There are many factors that determine the job an individual may obtain and Florida Technical College cannot guarantee its graduates any particular job. Some positions may require a license, degree, experience or other industry certifications. We encourage you to research the requirements for the particular position you desire. Program availability varies by campus.