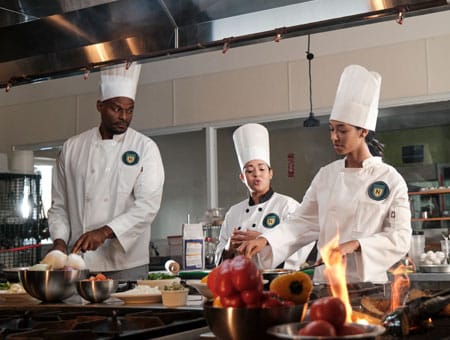 Future Start DateJanuary 08
Duration
12 months
Following the curricular sequence

The Culinary Arts Diploma Program offers students the opportunity to acquire the skills and knowledge needed to obtain an entry-level position in the field. Students will gain hands-on knowledge of sauces, meats, and baked products. In addition, they will learn about kitchen safety and sanitation techniques to ensure food safety. Finally, they will cover management and supervision in the food service industry.
Programmatic Accreditation
Outstanding Courses
Basic Culinary Techniques

Cuisine, Culture & Kitchen Organization

Introduction to Baking

Sanitation & Allergens

Meat, Fish & Poultry Fabrication

Garde Manger

Food & Beverage Inventory/Cost Control with Math

Restaurant Service

International Cuisine

Hospitality Supervision & Management

Facility Menu Planning, Nutrition & Development


Culinary Externship
Possible Employment Opportunities
Banquet Cook

Line Cook

Catering Cook

License or related certification
Students are eligible to sit for the following certification exams:
ServSafe® Food Manager
ServSafe® Allergens
Admission requirements
High School Diploma or a recognized equivalent.
No previous knowledge in culinary arts is required.
*These examples are intended to serve only as a general guide of possible employment opportunities. There are many factors that determine the job an individual may obtain and Florida Technical College cannot guarantee its graduates any particular job. Some positions may require a license or other certifications. We encourage you to research the requirements for the particular position you desire.