Bachelor's Degree in Information Technology with emphasis in Cybersecurity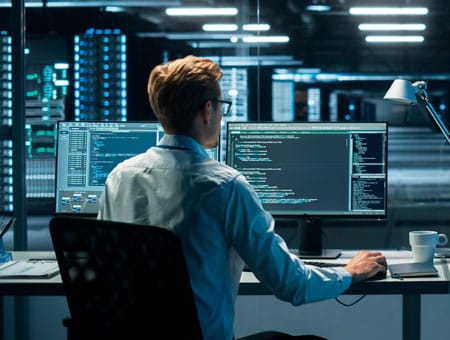 Future Start DateJanuary 08
Duration
36 months
Following the curricular sequence

The Bachelor's Degree program in Information Technology with Emphasis on Cybersecurity introduces students to a variety of topics, such as assessing the security vulnerability of computer and network systems, various computer and network safeguarding solutions, and managing the implementation and maintenance of security devices, systems, procedures, and countermeasures. As a graduate of the program, students will be prepared for a career as a developer of security design, information assurance, computer forensic investigator, ethical hacker, and/or any digital security-related jobs.
Outstanding Courses
Preparing for A+ Certification

Computer Programming Design

Programming for Security (Python)

A+ Hardware, Networking & Mobile Computer Systems

A+ Software, Security & Operating Systems

Routing and Switching

Networking Fundamentals

Security Fundamentals

LAN Analysis and Design

Windows Professional

Windows Server

Windows Network Infrastructure

Designing Security for a Windows Network Lecture/Lab

Virtualization and Cloud Management

Linux Administration

Information Assurance

Cyber Laws and Compliance

Network Hardening

Web Applications and Social Network Security

Cryptography and Network Security

Intrusion Detection and Incident Response

Digital Forensics I & II


Ethical Hacking
Possible Employment Opportunities
Developer of Security Design

Information Assurance Specialist

Ethical Hacker


Digital Security related jobs
License or related certification
Students are eligible to sit for exams for:
CompTIA A+
CompTIA Network +
CompTIA Security +
Admission requirements
High School Diploma or a recognized equivalent.
*These examples are intended to serve only as a general guide of possible employment opportunities. There are many factors that determine the job an individual may obtain and Florida Technical College cannot guarantee its graduates any particular job. Some positions may require a license or other certifications. We encourage you to research the requirements for the particular position you desire. Program Availability varies by campus.