Heating, Ventilation, Air Conditioning, and Refrigeration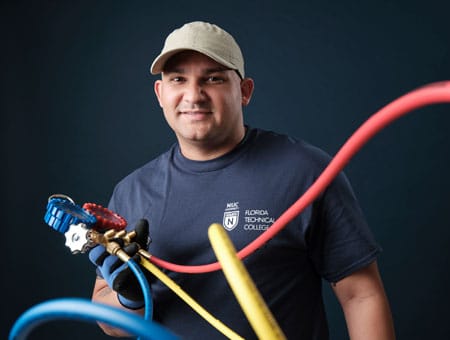 Future Start DateJanuary 08
Duration
12 months
Following the curricular sequence

The Heating, Ventilation, Air Conditioning, and Refrigeration (HVAC/R) Diploma Program prepare students with the knowledge and necessary skills to develop efficient and safety-minded technicians that will be able to fill an entry-level position in the heating, ventilation, and air conditioning field. In addition, they will acquire the necessary skills, to perform installation tasks, service, and repairs in heating, refrigeration, and air conditioning equipment. This program is designed to prepare graduates to take the certifications from the Environmental Protection Agency (EPA) and Occupational Safety and Health Administration (OSHA).

Outstanding Courses
Safety and Craft Skills

Applied Math for HVAC Technicians

Introduction to Electricity (DC-AC)

Introduction to Refrigeration and A/C

Refrigeration and A/C: Residential

Refrigeration and A/C: Commercial

Heat Pumps and Related Systems

Electrical Instrumentation: Lab

Mechanical Instrumentation: Lab

Residential Equipment: Lab

Commercial A/C Equipment: Lab


Environmental Protection Agency (EPA) Laws and Regulations
Possible Employment Opportunities
HVAC Repair Specialist

HVAC Service Technician


Systems Maintenance Mechanic
License or related certification
Students are eligible to take the following certifications test:
EPA 608 Universal
OSHA 10 Safety
Admission requirements
High School Diploma or a recognized equivalent
*These examples are intended to serve only as a general guide of possible employment opportunities. There are many factors that determine the job an individual may obtain, and Florida Technical College cannot guarantee its graduates any particular job. Program availability varies by campus.