Bachelor of Science Degree in Hospitality Management with Emphasis in Restaurant and Food Service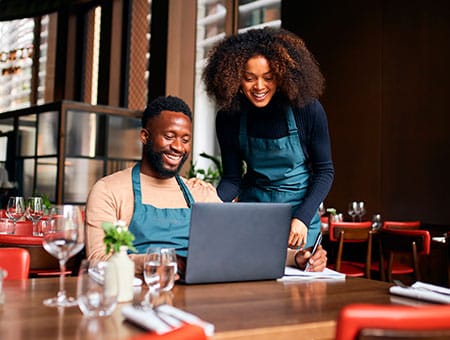 Future Start DateJanuary 08
Duration
36 months
Following the curricular sequence

The Bachelor of Science Degree in Hospitality Management with Emphasis on Restaurant and Food Service is comprised of a combination of courses aimed at developing universal business and management skills with a concentration in food service operations within the Hospitality industry. Students will examine the planning, managing, and marketing of restaurants and food and beverage service establishments. In addition, students will assess and apply the skills needed to problem solve and operate food industry businesses, chains, and restaurants including personnel management. Furthermore, the students will analyze specific industry standards including the logistical, regulatory, financial, professional, and ethical standards of the profession.
Outstanding Courses
Success Strategies

Career Development Lecture

Cuisine, Culture & Kitchen Organization

Sanitation & Allergens

Food & Beverage Inventory/Cost Control with Math


Facility Menu Planning, Nutrition & Development

to Computer Operations

Human Resource Management

Business Management Lecture/Lab

Introduction to Marketing

Accounting I Lecture/Lab

Microeconomics

Leadership and Organizational Behavior Lecture/Lab

Labor Relations Lecture/Lab

Food Service Human Resource Management

Food Service Administration & Financial Management

Management & Marketing in the Food Service industry

Food Service Information Systems

Food Service Administration & Financial Management

Food Service Policy and Law

Possible Employment Opportunities
Front of the House Supervisor/Manager

Back of the House Supervisor/Manager

Kitchen Staff Manager

Head Cook

License or related certification
Students are eligible to sit for the following certification exams:
ServSafe® Food Manager
ServSafe® Allergens
Admission requirements
A student must first successfully complete a culinary arts (Baking and Pastry, Culinary Arts, or another Hospitality program) Diploma or higher, from either FTC or another accredited institution, as a prerequisite for enrolling in the Bachelor of Science Degree in Hospitality Management with an emphasis in Restaurant and Food Service program. External transcripts must be evaluated by Academic Affairs to determine the transfer of credits accepted into the program.
*These examples are intended to serve only as a general guide of possible employment opportunities. There are many factors that determine the job an individual may obtain, and Florida Technical College cannot guarantee its graduates any particular job. Program availability varies by campus.