Medical Assistant Technician with Emphasis in Basic X-Ray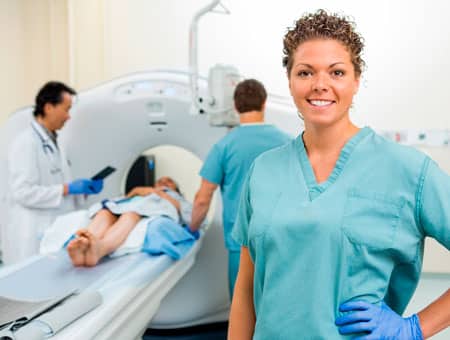 Future Start DateJanuary 08
Duration
12 months
Following the curricular sequence

The Medical Assistant Technician with Emphasis in Basic X-Ray Diploma program prepares the student to acquire the necessary skills to perform under the supervision of a physician providing medical office administrative services, clinical duties including patient intake and care, routine diagnostic, and basic x-ray procedures in the classroom and supervised clinical practice or capstone. Graduates will be eligible for Basic Machine Operator licensure.
Outstanding Courses
Medical Office Procedures

Anatomy and Physiology with Medical Terminology I & II

Clinical Procedures

Laboratory Procedures

Introduction to Pharmacology

Basic Cardiorespiratory Procedures

Certified Medical Assistant Exam Prep

Fundamentals of Basic X-Ray Machine

Advanced Fundamentals of Basic X-Ray Machine

Basic X-Ray Machine Operator Exam Prep


Externship or Medical Assistant Capstone
Possible Employment Opportunities
Basic Machine Operator Medical Assistant

Clinical Assistant

Radiation Technician Assistant


Registered Medical Assistant
License or related certification
Students are eligible to take the following certification test:
National Certified Medical Assistant (NCMA) from National Center for Competency Testing (NCCT).
Graduates will be able to sit for the Basic X-Ray Machine Operator exam administered by the Florida Department of Health by the American Registry of Radiologic Technologists (ARRT).
Admission requirements
High School Diploma or a recognized equivalent
*These examples are intended to serve only as a general guide of possible employment opportunities. There are many factors that determine the job an individual may obtain and Florida Technical College cannot guarantee its graduates any particular job. Some positions may require a license or other certifications. We encourage you to research the requirements for the particular position you desire.
Information regarding whether completion of these programs would be sufficient to meet licensure or certification requirements in a State for that occupation is provided at https://ftccollege.edu/institutional/student-information/.