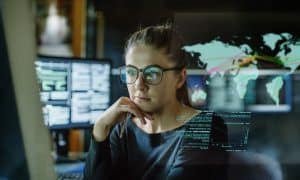 Are you considering an IT role or want to move up the ladder at your organization? The IT profession is an expansive and rewarding career path. IT professionals get to work with many different technologies and within an equally large number of fields. IT can range from working with cybersecurity to creating and configuring powerful servers. The profession also involves software, hardware, and the cloud technologies which sit somewhere in between. 
The expansive nature of the profession makes IT enticing, but that very same feature can make it a little difficult to learn its entirety. It's not always easy to know what skillset will match up to a particular IT-related position. Likewise, it's not always clear how you can prove that you've mastered those skills. Given how expansive the IT industry is, how can an employer really know that you've got what it takes to excel? 
Thankfully, there is a clearcut answer to all those questions. Most employers agree that CompTIA certification is one of the best ways to know if a job candidate is qualified for a position in IT. Of course, this also raises another important question. Just what is CompTIA?

What Is CompTIA?

The short answer is that CompTIA is a non-profit trade association that issues certifications related to IT. However, it's important to keep CompTIA's long history and strict criteria in mind. CompTIA was first founded all the way back in 1982. These were among the earliest years for the IT industry as we think of it today. Computers were seen as mysterious thinking machines by most of the public in the early 1980s. The average business owner would often lack the background to properly judge whether a job applicant understood the company's computer systems. Remember that at this point microcomputers were just starting to enter the market. Even early adopters wouldn't have a computer at home. In fact, the vast majority of the population had yet to see a computer. CompTIA recognized the need for an intermediary to help people get the most out of both computers and IT professionals. 
Part of CompTIA's initial work went into furthering the progression of IT in the professional world. Over time CompTIA would pair with Person VUE testing centers to offer certification exams. Alongside this CompTIA would set specific criteria that people would need to study to pass the exams and earn a certification. CompTIA's early entry into the market and strict but fair criteria would make it an authority within the IT world. Today they offer many certifications that can attest to someone's proficiency in many different IT fields. CompTIA's mission is to provide people with the ability to easily and plainly demonstrate their skills within the IT industry. 

What Is CompTIA Certification?

You've seen just how much emphasis both CompTIA and the IT industry puts on certifications. But just what are CompTIA's certifications? And why have they become such an important part of the IT sector?
One of the most important parts of CompTIA's certification process is the sheer scope of material they cover. If a subject is related to IT, then there's a good chance CompTIA has a certification related to it. Sometimes this is a certification specifically focused on that topic. On the other hand, the topic might be one part of another larger subject. However, CompTIA's certification covers most IT-related subjects you might encounter within the professional world. All these subjects are important, but some of them are so popular and in demand that they deserve special attention. These are the certifications typically categorized as a "core certification." The core certifications include A+, Network+, and Security+.
A+ Certification
CompTIA's A+ certification covers most IT subjects to at least some extent. It can be thought of as a foundational, or generalized, certification. Someone with A+ certification will be able to understand the basics of almost every area of IT. CompTIA's A+ certification touches on many of the topics covered in greater depth by other certifications, and because of this people often use A+ certification as a stepping-stone to other CompTIA certifications. For example, A+ certification covers some aspects of networking. It's easy to build on that knowledge to then earn Network+ certification. 
If you're A+ certified, then you should be able to assemble a computer from scratch and handle the installation of operating systems and relevant software. You'll also need to manage its networking and security requirements. 
The A+ certification is a good pairing for careers that require someone to have a wide range of knowledge. For example, A+ certification pairs quite well with a career as a service desk analyst, help desk technician, or field service technician. 
Network+ Certification
CompTIA's Network+ certification covers subjects related to digital networking. However, this goes far beyond what most people think of as networking. The term networking is usually associated with literal networks such as LANs and WANs, but networking is more than just the medium transmitting data. Network+ also covers how those networks interact with the individual nodes that make up the larger system. 
Network+ certification verifies that you're able to manage every aspect of network management. This can involve designing and setting up the physical architecture of a network, but it also includes working with more virtualized systems such as cloud-based technologies. 
Security+ Certification
The Security+ certification covers cybersecurity on most of the popular enterprise and personal systems. The fact that the certification covers both types of computing devices is especially important in today's modern landscape. People often want to use their smartphones and other mobile devices in professional settings. Allowing this while also maintaining proper security protocols can be a challenging proposition, but someone with Security+ certification has proven themself up to the task. 
Security+ also covers monitoring all those systems for suspicious activity. Cybersecurity isn't just about hardening systems against attack you also need to detect attempts to bypass that security. Likewise, it's important to identify signs that a system might have been compromised before your security measures were implemented. On top of this, the Security+ certification covers compliance with important regulations. Some of these regulations include CCPA, GDPR, NIST, FISMA, HIPPA, PCI-DSS, and SOX. 
Cybersecurity Certifications

Just as the infrastructure certifications build on Network+, so do the cybersecurity certifications build on Security+. CompTIA's CySA (Cybersecurity Analyst) goes into further depth with security behavioral analysis. CASP+ (CompTIA Advanced Security Practitioner) puts additional emphasis on skills related to the design and implementation of security solutions. And finally, the PenTest+ (Penetration Testing) certification covers skills related to the use of penetration and vulnerability testing for ethical hacking. 

Preparing for the Core Certifications

While there's many certifications, people begin with the A+ certification, as it is a prerequisite for the more advanced certifications. The exams for each certification differ in their subject matter. However, they do have some things in common. 
Similar Exam Methodology
The certifications are typically given at the same general location. Likewise, the methodology used for the tests is similar. Test takers are given multiple choice questions on an exam which consists of no more than 90 questions. You're given 90 minutes to complete an exam. This works out to one minute per question. Some certifications are taken in multiple parts. In those instances, you'll take two exams with roughly the same number of questions and the same amount of time to answer each of them. 
Overlapping Subject Matter
Despite the similarities in each certification exam, there are also differences. Again, the crux of those differences comes from the subject matter. There are some overlapping topics. For example, subjects relating to networking will show up on the A+, Network+, and Security+ exams. You will see that theme within each subject relating to IT across these three core certification exams. But what exactly does each exam cover?
A+ Exam Content

The A+ exam is divided into two parts. These are 220-901 and 220-902. 220-901 covers hardware, networking, mobile devices, and the diagnostics process for both hardware and networking. The 220-902 exam covers security, Windows, other operating systems, software troubleshooting, and operational procedures. 
Network+ Exam Content
The Network+ exam is largely centered around the creation and maintenance of digital networks. This includes the design, implementation, configuration, management, and maintenance of networks and the devices which run them. You'll also need to go into detail regarding the reasoning behind choices involving those networks. On top of this, the exam touches on network security. You'll have to be prepared to implement network security and the various standards and protocols which go along with them. It's also important to know how to create and work with virtualized networks. 
Of course, network-related functions are one of the more rapidly changing aspects of the IT industry. A recent update to the Network+ exam expanded the scope of its coverage to address some of these changes. One of the most important changes involves added details related to cloud computing. These new sections encompass information on white box switching and Network Feature Virtualization. The Network+ exam also saw additional information added which addresses new critical security concepts. 
Security+ Exam Content
The Security+ exam is categorized into distinct domains and topics. The first of these includes threats, attacks, and other vulnerabilities. These questions involve the test taker to analyze signs and symptoms of a compromised system. You'll also need to handle account management within the most popular operating system. This is largely in the context of working with permissions associated with people's accounts. 
Some of the more advanced topics on the exam include application architecture and design. These exam questions look at your ability to work with IT design concepts in a fully secure manner. You'll also need to know how public key infrastructure relates to security and aspects of cryptography. 
The topic of risk management is an important part of security, but it's not just about knowing how to handle it on a technical level. The exam also ensures you're able to properly communicate those risks to less technically minded people. 

How To Prepare for the Exams

There's obviously a lot of material to cover before taking any of CompTIA's certification exams. The process is made even more difficult by the minimal time offered to complete the exam. And of course, on top of everything else, the atmosphere can feel intimidating. Most people feel a sense of trepidation when considering just how much goes into the certification process. This leads to an important question. What's the best way to prepare for the exam? And is there any way to ensure you're actually prepared for the certification exam before you take it? Thankfully, the answer to both of those questions is yes. 
An easy way to prepare for all of CompTIA's exams is through an information technology program with an emphasis in cybersecurity from a vocational school. Some aspects of this process are self-explanatory. For example, it makes sense that a school would be a great way to learn about any subject, but some of the benefits you'll see from a course require more in-depth discussion. 

What Are the Benefits of a Formal Education?

One of the most important benefits of a formal education is the other people you'll share the experience with. Mentorship with an experienced instructor is one of the most readily apparent of these relationships. An experienced instructor can guide you through almost every aspect of the test. Some of this will involve academic study, but you'll also get hands-on experience with advanced IT equipment. Instructors can guide you through the process of using the same type of equipment that you'd see in enterprise-level workplaces. 
The other students are also an important part of this process. IT programs attract people from a wide range of backgrounds and skill levels. You'll find people who have lots of experience in one area of IT and want to move on to another. Others are working their way through multiple certifications. Still others are starting out in IT for the first time. The variety of backgrounds makes for a dynamic environment to learn within. It gives you a chance to help others and be helped in turn as everyone works through the material. 
And when the time comes to take the exam, you'll know for a fact that you're ready. This is thanks to the practice exams. Before you tackle the real certification exam, you'll have the chance to work on a practice version. The practice exams use the same general methodology and questions that you'll find on the real exam. The only difference is that you can work through the practice exam without the stress typically felt during real certification exams. It's a way to prove to yourself that you're ready to take CompTIA's certification exam. And when you step up to take that exam after finishing the IT degree program, you'll know that you've mastered the content needed to pass it. 

Information Technology Degree Program

The Bachelor Degree program in Information Technology with emphasis in Cybersecurity introduces you to a variety of topics, such as assessing the security vulnerability of computer and network systems, various computer and network safeguarding solutions, and managing the implementation and maintenance of security devices, systems, procedures and counter measures.  As a graduate of the program, you will be prepared for an entry-level career as an information support analyst, junior ethical hacker, or network and security support analyst related jobs.
Ready to move from the classroom to a career? Florida Technical College is here to help. Contact us to learn more about completing the information technology degree program at Florida Technical College.