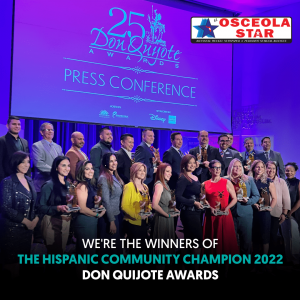 The Hispanic Chamber of Commerce Metro Orlando (HCCMO) and Prospera have revealed this years their finalists for The 25th Annual Don Quijote Awards at the Orlando Museum of Art. El Osceola Star Newspaper describes the ceremony as such:
"The Don Quijote Awards recognize businesses and individuals committed to excellence and the development of Central Florida's Hispanic community. The winner of each category will be announced at the 25th Don Quijote Awards Celebration on Saturday, December 10, 2022, at Epcot's World Showplace Pavilion from 6:00 pm to midnight."
The Don Quijote Awards recognizes businesses within four different categories, one of them being the Hispanic Community Champion Award. Florida Technical College is proud to announce our very own President, Dr. James Michael Burkett, as a Hispanic Community Champion Award recipient. This award honors leaders of non-Hispanic decent who substantially support and contribute to the growing advancement of the Hispanic community in Central Florida.
"The winner of the 2022 Don Quijote Hispanic Community Champion Award is Dr. Michael Burkett, President at Florida Technical College (FTC) – one of Florida's largest trade schools with seven campuses across the state and its sister school Dave School, ranked as one of the top schools in the state for animation, visual effects, and game design. FTC is a Hispanic-owned institution that offers diplomas, associate and bachelor's programs designed to assist the adult learner." 
-El Osceola Star Newspaper
A special thanks to El Osceola Star Newspaper for the commemorative feature of our school, as well as the Hispanic Chamber of Commerce Metro Orlando (HCCMO) and Prospera of the Don Quijote Awards for the esteemed recognition of our president as Hispanic Community Champion 2022.