The winners of the early July competition will go on to represent the Americas next year at the WorldChefs Congress in Malaysia
KISSIMMEE, Fla., July 15, 2017– The knives came out and it was on. Culinary teams representing Argentina, Colombia, Mexico and the United States and other countries, battled it out this weekend at Florida Technical College Kissimmee for the right to represent the Americas in the WorldChefs Congress & Expo 2018 in Kuala Lumpur, Malaysia.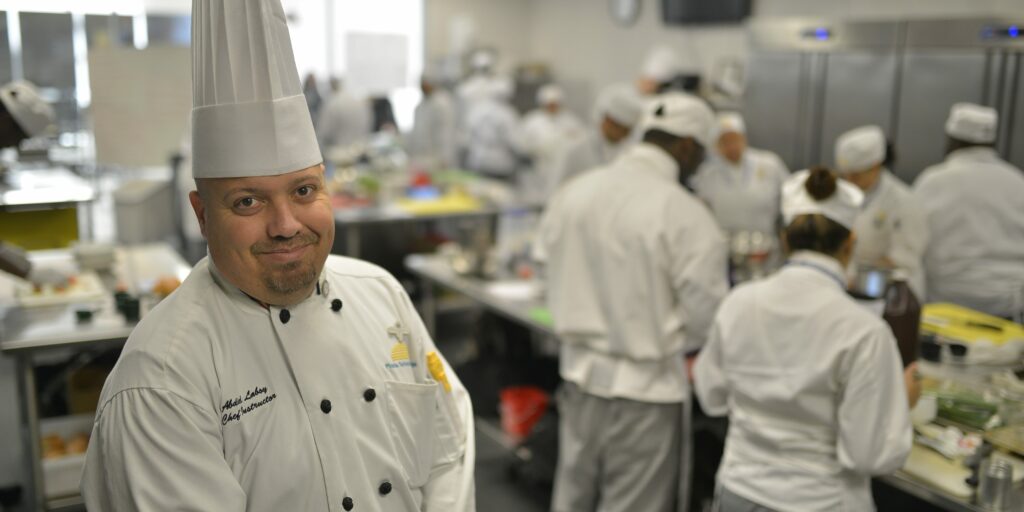 Founded in France in 1928, WACS is the largest global network of chefs, representing more than 10 million professionals worldwide. The competition to select the representation of the Americas was held in three different categories: Global Chefs, Global Pastry Chefs and the Hans Bueschkens Young Chefs Challenge for chefs 25 and under. The winners are:
Global Chef category: Chef Robert Pineda, Colombia
Hans Bueschkens Young Chefs Challenge for chefs 25 and under: Shayne McCrady, line and sauté cook at The Gatesworth, in St. Louis, MO
Global Pastry Chef: Cher Harris, CEPC, executive pastry chef, Hotel Hershey, Hershey, PA
"We are ecstatic to host such an important culinary event at FTC's kitchens," said Chef Peter Vossenberg, Director of Hospitality Programs at Florida Technical College. "It's a fantastic experience for our students, many of which volunteered to assist during the competition and had the chance to interact and learn from some of the most talented individuals in this industry at global level."
Florida Technical College Kissimmee campus, is also a Regional Chef Training Facility for the Chaîne des Rôtisseurs, the world's oldest gastronomic society founded in Paris in 1248. FTC is one of only five schools in the United States to currently hold the coveted designation, which will enable students and food preparation professionals to learn from nationally and internationally recognized chefs. At the same time, the campus is the headquarter of The American Culinary Federation Central Florida Chapter
Orlando Chef Reimund Pitz, a certified world master who is a Chaîne official, said FTC´s partnerships with the professional culinary groups will enable the school to access top talent for the benefit of its students.
"The school is now in a position to tap some truly dedicated professionals and master chefs to come here and hold seminars and training events for its students," Pitz said. "These partnerships will enrich FTC's culinary program and take it to the next level."
For additional information about Florida Technical College Culinary Arts and Baking and Pasteleria Diploma Programs call 888-906-5730 or visit www.FTCcollege.edu .
---
About Florida Technical College: FTC offers associate and bachelor's degrees and diploma programs in a range of professions, including healthcare, computer networking, graphic design, criminal justice, culinary arts and cosmetology.  FTC campuses are located in Orlando, Lakeland, Deland, Kissimmee, Pembroke Pines and Cutler Bay. Founded in 1982 to provide private, post-secondary education in specialized fields.