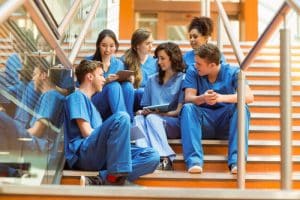 The field of Medical Assisting is more popular than ever and you can be a part of it with a degree from Florida Technical College. In about two years, depending on whether you can go to school full time or need to work around your current job, you can earn an associate degree in medical assisting and become a medical assistant. You will get the experience you need to find a great job and be ready to pass the test for becoming a registered medical assistant.
Medical Assistant Curriculum
Medical assistants do work that is rewarding while also earning a good living. As a medical assistant, you may work in a doctor's office, a hospital, a clinic, or other medical settings doing real, hands-on work that helps patients. So what does it take to get there?  Florida Technical College's Medical Assistant program includes academic classwork and on-the-job training:
Medical Office Procedure. You will be prepared to work in a medical office and handle clerical tasks including filing, handling mail, and preparing budgets. Other tasks may include assistance with billing, ordering supplies and answering phones.
Basic Anatomy and Physiology. To get you started on the path to becoming a medical assistant you will start with coursework related to the human body. In these classes, you will learn about the systems of the body and get to understand the foundational information for medicine and health care. Further study of homeostasis, histology, cytology, integumentary, musculoskeletal, nervous, and special senses systems.
Medical Terminology. If you have ever been to the hospital or watched a medical TV drama, you have heard the lingo doctors and nurses use that sounds like another language. You will get to learn this secret language in your medical assisting coursework. You will also learn the basic components of medical terminology so you can break down any word into its parts and understand its meaning. These components include prefixes, suffixes, and roots. You will also learn about special numerical, positional, condition and procedure terms.
Medical Law and Ethics. This coursework will familiarize you with the laws and ethics governing all medical workers. You will get training in how to be sensitive and compassionate when working with people who are scared or in pain.
Clinical Procedure. This course will cover patient education, communication skills, taking patient histories, and monitoring vital signs. You will also learn how to assist the physician with exams and patient treatment.
Pharmacology. In your pharmacology coursework, you will learn the basic principles of using medications to treat patients. You will learn about treatments, side effects, and how to educate patients about taking their medications.
Health Care Information Processing. Medical assistants work with patients, but they also do specialized medical office work. This includes scheduling, filing, transcribing, and billing.
Clinical and Lab Procedures. This is the meat of the job of medical assisting and the fun part. You will learn how to use microscopes, culture specimen, and staining techniques. You will master diagnostic testing and perform venipuncture. You will also learn about actual procedures that you will be doing for patients on the job, from running EKGs to performing pulmonary function tests, to assisting with minor surgeries.
Certification Prep. There will be a course on preparation for the medical assistant certification exam. It will cover the topics in the exam that were included throughout the medical assistant program.
Hands-On Experience. As you earn your degree, you will not just be learning procedures in a classroom. You also get to work in real medical settings and will earn at least 160 hours of practical, real-world experience. This truly prepares you to find placement with a great job once you have completed your degree. Part of the coursework includes an externship. This will allow you to work in real-world scenarios with patients, doctors and other medical staff.
Medical Assistant Skills
When becoming a medical assistant, you will gain knowledge and skills that will prepare you for an entry-level position. These skills include communication, compassion, organization, adaptability, and teamwork. With this skill set you are well on your way to becoming a successful medical assistant.
Skill #1: Communication
Becoming a good communicator is important for any medical assistant. Much of your time will be spent talking to patients whether in person or on the phone. You must first listen before speaking so that you understand the issues and can better solve them. Good verbal communication is important to instill confidence in patients, as you are the first person they will typically meet when they go to a medical facility. You will need to master written communication to properly record information including medical history and vital signs. Non-verbal communication, or body language, is also important to master, as the body will say much more than the mouth. You should be able to interpret different facial expressions whether it is fear, pain or happiness. How a patient stands also tells you whether they are listening or defensive. Take the time to master communication and be prepared to work with patients and colleagues.
Skill #2: Compassion
Many patients are having a bad day when they visit a hospital or medical facility. It is important for you to show compassion to patients. This will help build their trust and give the patient confidence that you care about their well-being.
Skill #3: Organization
In order for patient exams and procedures to go smoothly and to not waste any of the nurses or physicians time, it is important for you to stay organized. Have the instruments cleaned and ready for the exam or procedure. Make sure the supplies are stocked and ready for use. Finally, make sure that paperwork and files are organized so that claims are processed properly.
Skill #4: Adaptability
When becoming a medical assistant, it is important for you to learn flexibility and adaptability. Every situation will be unique, and it is up to you to identify the best course of action to improve the health of your patients. You may have a steady flow of patients and unexpectedly have an emergency you must juggle. Things change in a medical facility and it is important for any medical assistant to adapt to every situation.
Skill #5: Teamwork
A medical facility only runs when everyone is working together. As a medical assistant, you must support your fellow colleagues to improve the outcomes of your patients. Communication is key to teamwork as everyone must stay informed of what is happening and what he or she are responsible for.
The work it takes to earn your degree in medical assisting and to become a medical assistant  is challenging, but also fun. Expect to learn new facts and skills and to begin working in real settings to practice procedures. Medical assisting is a great career, and you can get there. With financial aid options and flexible class schedules, you can earn your Medical Assisting degree from Florida Technical College and start a new and rewarding career.