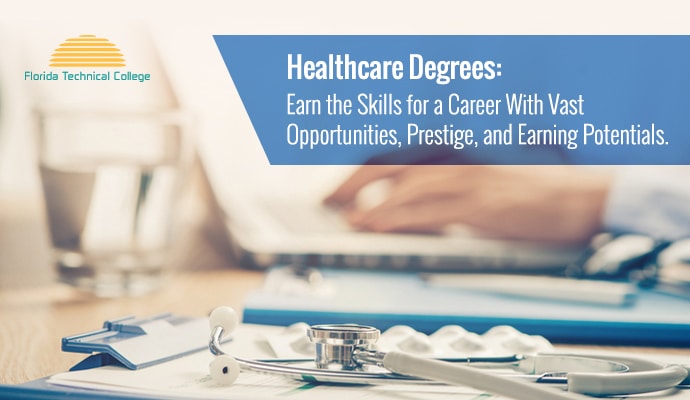 As the demand for healthcare professionals continues to increase, the payoff for receiving an education in healthcare rises with it. Through any one of Florida Technical College's Healthcare Programs, you could be among the many professionals who serve communities, while also bringing home a livable wage.
Healthcare Degrees: An education that leads to a career in high demand:
No matter what health care program you decide to take courses in, you can be sure that the skills you'll learn will lead you to endless opportunities for employment. With the federal health insurance reform in place, the number of individuals who have access to health insurance will rise, creating an increase in our aging population, and resulting in a higher demand for health services. As the number of people having health insurance increases, the number of people seeking medical care will also increase, making the need for medical professionals even greater. The Bureau of Labor Statistics reports that just 2 years ago the healthcare industry employed over 18 million and had an average monthly job-opening rate of 3.9 percent. Having a 2.6 percent compound annual rate of change makes health care, only tied by construction, the highest of all industries. This evidence proves that an education with a medical assistant school such as Florida Technical College, that can provide degree and diploma options, will create a path to success in a field growing with a need for trained individuals.
A field with something for everyone:
In studying healthcare you will have the chance to consider so many opportunities, not only for education through the variety of programs FTC has to offer, but also through the many options that will be available when choosing the right career and position for you. Careers in healthcare are diverse, each position requiring a specific set of skills and training. Medical professionals can choose to work in a position that puts them behind the scenes, completing tasks that require technical training, or on the front end of practices dealing with patients and the public. When making the decision to enroll in classes that will enable you to gain employment in entry-level medical jobs, it is important to consider what environment you would enjoy spending your time in. For instance, FTC offers courses that give their students medical assistant skills, important for those who plan on working in direct contact with patients, doctors, and nurses on a daily basis. These skills include the administering of injections, taking patient vital signs, drawing blood, correct preparation of the exam room for the physician, and customer service skills that are needed in order to accurately schedule appointments and provide facility information. If you are someone who enjoys working and being in direct contact with people, a medical assistant program may be the right healthcare career choice. Others may base their educational needs and employment goals on the time they are able to set aside for their education. For those balancing a family and a full-time job, or for those who wish to start working as soon as possible, training in areas like medical reception or medical billing and coding can lead to entry-level medical jobs while giving you the ability to work at your own pace, with the option of completing courses online on your own time. Medical coding specialists often work behind the scenes and are in charge of reviewing the previous day's batch of patient notes that need to be coded. It is up to the medical coder to read the documentation and identify the patient's diagnosis and what procedures were performed during their visit. They then take this information and put it into a more compact documentation using a specialized set of codes.
This position requires the use and knowledge of computers and software programs, as well as the ability to work without supervision. Do you thrive when working alone? Do you have an eye for detail? If you answered yes, and you have the ability to take information and relay it in a more concise manner, this educational career path may be the right one for you. While jobs in the healthcare industry offer positions like medical assisting and medical coding, each accompanied by very different work environments and skills.
Grow through education, and grow in your career's field:
One of the best incentives for receiving a healthcare degree is the amount of advancements professionals are able to make in their careers. Receiving one degree in the medical field often gives the student credentials that will transfer to other areas of medical expertise. Those who obtain entry-level medical jobs such as a position as a medical receptionist are already equipped with the knowledge that can advance their career to higher-paying positions as medical assistants, or technicians. Although many advancements may require further education, chances are the experiences you will have gained in any position within the medical industry will open doors to more opportunities for your career. For example, Medical lab technicians may advance to become medical lab technologists, and medical assistants can advance to nursing. As reported by Healthcarepathway.com Medical Lab Techs are in a position with almost unlimited career advancement potential. Students who study to be a Medical Lab Technician can expect to enter the workforce with skills that are also needed in higher-paying positions. While both require some additional training, chances are coursework and clinical will be easier because of the experience and background you will have already obtained. This can make returning to school while keeping your current position a little less stressful while showing your employer you mean business. Another important aspect to consider when looking at the many opportunities for advancement within a healthcare career is the references current workplace supervisors and previous medical instructors can provide. Often when applying for post-secondary programs in healthcare, applicants are required to have these references and recommendations.
Whether you are looking to start a new path toward a career, or make advancements in and through your current profession, Florida Technical College has something to offer everyone. With Healthcare Degrees in high demand, and jobs in the medical field that are offering competitive salaries and endless opportunities for advancement, finding a position in healthcare that suits your needs and goals has never been easier.