Saturday, August 1, 2020
2:00 – 4:00 PM
2925 International Drive, Kissimmee, FL 34746
Press Release led by Osceola County Commissioner Peggy Choudhry, in collaboration with The Salvation Army, Florida Technical College, and Walmart.
Osceola County, Florida – Commissioner Peggy Choudhry gave away free emergency pandemic bags to ensure that residents of District 1 have the essentials needed to stay safe.
Commissioner Choudhry would like to thank The Salvation Army, Florida Technical College, Walmart, and Embrace Celebration for their collaboration, donations, and efforts to help make this event possible.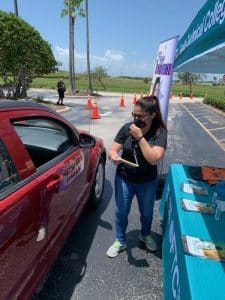 Some of the essential, donated items include:
Hand sanitizer
Antibacterial wipes
Face masks
T-shirts with safety measures reminder message
Emergency Management Covid-19 and hurricane preparedness inserts
Covid-19 insert from Commissioner Choudhry
Additional items from the Salvation Army, Florida Technical College, and Embrace Celebration. Food items may also be provided by the Salvation Army.
"I'm so proud to partner up with such wonderful organizations that provide a variety of essential services to the residents of Osceola County. Thank you to everyone who participated and collaborated in this event", said Choudhry.
About FTC
Founded in 1982 to provide private, post-secondary education in specialized fields, Florida Technical College is an academic unit of NUC University (NUC). NUC is accredited by the Middle States Commission on Higher Education, 3624 Market Street, Philadelphia, PA 19104. (267-284-5000) www.msche.org. The MSCHE is an institutional accrediting agency recognized by the U.S. Secretary of Education and the Council for Higher Education Accreditation (CHEA). FTC offers diploma, associate, and bachelor's degree programs in a range of professions, including Healthcare, Construction Trades, Hospitality, Beauty, Information Technology, and Business. FTC campuses are located in Orlando, Kissimmee, Lakeland, DeLand, Pembroke Pines, Cutler Bay, and Tampa. Program availability varies by campus.