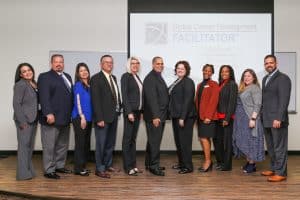 ORLANDO, Fla., March 4, 2020 — Florida Technical College (FTC) announced that 11 out of their 15 career service professionals at FTC graduated with their Global Career Development Facility (GCDF) certification. Four more students will graduate with their certifications this year.
"Today is a special day, we've had 11 out of our 15 career service professionals from Florida Technical College graduate from their global career development facility certification," said MaryAnn Sewell, VP of Strategic Business Development and Career Services for Florida Technical College. This is a globally accepted credential and highly coveted credential through NCDA, National Career Development Association for Career Services Professionals and I am pleased to announce that they are officially GCDF."
The Global Career Development Facilitator (GCDF) credential was developed by the Center for Credentialing and Education (CCE) in collaboration with the National Career Development Association (NCDA) and the National Occupational Information Coordinator Committee. The GCDF U.S. credentialing program was launched in 1997 and is the first and most notable national credential in the field of career development.
"The Global Career Development Facilitator Credential involves 120 hours of training. We have 12 competencies that they have to complete in order to receive the certification," said Sewell. "That includes helping skills to diversity and inclusion, it includes legal and compliance as well as how to run or manage a career services operations center"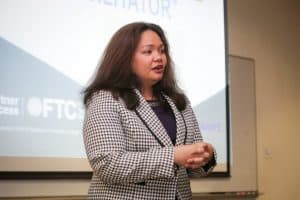 With this credential, graduates are able to provide high-end career services for students and employers. This allows them to provide career service consultations and assist businesses by providing career service professionals. Their consultation services include guiding students with proper employment skills and training as well as referrals to employers on their behalf.
"With a GCDF, a Global Career Development Facilitator credential our career services advisors, their services are elevated to where they can do more than just a regular career services advisor which includes consultation with each and every graduate as well as business," said Sewell.
Florida Technical College has seven campuses in the state of Florida. It is an academic unit of National University College, which is accredited by the Middle States Commission on Higher Education. Financial aid is available for those who qualify. For additional information or to register, call 321-684-4034.
About FTC: Founded in 1982 to provide private, post-secondary education in specialized fields, Florida Technical College is an academic unit of National University College (NUC), which is accredited by the Middle States Commission on Higher Education (MSCHE), 3624 Market Street, Philadelphia, PA 19104 (267) 284-5000. The MSCHE is a regional accrediting agency recognized by the U.S. Secretary of Education and the Council for Higher Education Accreditation. FTC offers associate and bachelor's degrees as well as diploma programs in a range of industries, including healthcare, construction trades, hospitality, cosmetology, business, and information technology. FTC campuses are located in Orlando, Kissimmee, Lakeland, DeLand, Pembroke Pines, Cutler Bay, and Tampa. Program availability varies by campus.