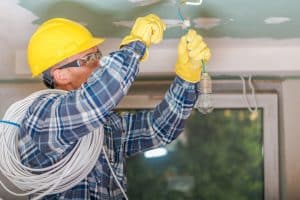 Electricians perform a wide variety of tasks on a day to day and job by job basis. When hiring an electrician, it is understandable to be focused on finding someone licensed with the proper training. That is important, but it's also important to look for certain qualities beyond the technical skills and training required.
Here are four traits of a successful electrician:
1) Intellectual Ability
Mathematics

A solid understanding of mathematics and in particular algebra when conducting, for example, measurements

Reading and Reading Comprehension

There will be blueprints, written documents, and memos on every worksite you visit

Writing

You will need to communicate with many people and if your writing is confusing, it hinders the communication

Critical Thinking

On every job site, you'll have data that you need to observe and understand and have the ability to make decisions based upon it
2) Business Understanding
Time Management

The ability to finish a job on time is a very valuable skill because when a company has a job and makes a request for electricians, managers need to give an estimate of how much labor and cost will be involved

Teamwork

You will constantly be working with other electricians, other tradesmen, and other business people

Customer and Personal Service

Every job has a customer who is paying for a service and should be treated fairly and with respect

Clerical Abilities

A big part of the business is being able to understand simple business systems like knowing word processing, filing, basic accounting, and office procedures
3. Social Skills
Communication Skills

Workplace communication and being able to specify what tasks have been done and what tasks need to be done is important

Active Listening

Being silent while others speaking is a big part of being a good communicator

Instructing

Being able to instruct other electricians will help you, your worksite, and your apprentices

Observation Skills

Being able to observe others and understand how they will react to situations and requests is an important skill to have on a worksite
4. Ethics
Dependability

If you are given a job, can you be relied upon to get the job done, get it done right, and get it done on time? Can others depend on you to show up every day, on time, and contribute to the project you're working on? Can others depend on you?

Honesty

Be honest and ethical and operate with integrity

Endurance

Stay focused on doing a job and keep your effort consistent over time

Patience and Self-Control

On every job site, there can be differences of opinion that occur or people you don't like. Can you keep your cool, communicate effectively, and keep your mind on the job?

Persistence

If you can persevere through difficult situations, you'll be an asset to any team
Learn more about our Electrical program.
References/Sources:
Malcolm, N. (n.d.). 6 Qualities to Look for When Hiring Electricians. Retrieved from http://www.talentcor.com/blog/6-qualities-to-look-for-when-hiring-electricians
Personality Traits and Skills of Successful Electricians. (n.d.). Retrieved from https://www.electriciancareersguide.com/personality-traits-and-skills-of-successful-electricians/
About FTC: Founded in 1982 to provide private, post-secondary education in specialized fields, Florida Technical College is an academic unit of National University College (NUC), which is accredited by the Middle States Commission on Higher Education (MSCHE), 3624 Market Street, Philadelphia, PA 19104 (267) 284-5000. The MSCHE is a regional accrediting agency recognized by the U.S. Secretary of Education and the Council for Higher Education Accreditation. FTC offers associate and bachelor's degrees as well as diploma programs in a range of industries, including healthcare, construction trades, hospitality, cosmetology, business, and information technology. FTC campuses are located in Orlando, Kissimmee, Lakeland, DeLand, Pembroke Pines, Cutler Bay, and Tampa. Program availability varies by campus.