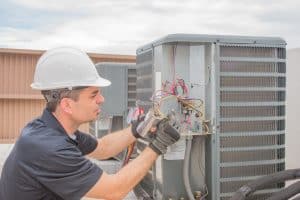 Indoor air, especially recirculated air, is full of contaminants. In fact, some experts say the indoor air could be more polluted than outdoor air. Respiratory irritants that can be found inside an enclosed area may include cat and dog hair, pollen, household chemicals like hair spray particles and dust among other things. An air filter is designed to keep this to a minimum.

How Often Should You Change Filters in an A/C?

The frequency with which you need to change your air filter will depend on how sensitive your family members are to irritants. In general, vacation home or homes owned by a single occupant without pets or allergies may only require an air filter change between 6 to 9 months. The average pet-less homes should change the HVAC filter every three months, and families with pets or allergies should change the filter every 30 to 60 days, according to HVAC.com.

How To Change Filter in an A/C?

When changing the filters, first start by turning off your HVAC System. Removal is easy if the filter does not simply slide out, it would be attached with smalls screws which can be removed using a household screwdriver.  Once you have the old filter removed from the unit, install the new one making sure that the filter faces the right direction and fits comfortably and securely into space. If it is ill-fitting you may have purchased the wrong model by mistake. Once the filter is installed, you may turn on the HVAC unit. It may be wise to buy filters in bulk if you expect to change them often, in order to reduce costs and improve convenience.
Having a clean filter will be of benefit to your household or business office. It will increase efficiency in your unit and, by the same token, save money. Additionally, it will increase the longevity of the unit, and you will be also helping the environment.

What Does an HVAC Technician Do?

HVAC mechanics and installers establish, maintain, test, and repair heating, ventilation, cooling, and refrigeration systems. There is a wide range of work to be done in the field. According to the U.S. Bureau of Labor Statistics, an HVAC technician may be responsible for:
Installing, cleaning, and maintaining HVAC systems
Installing electrical components and wiring
Inspecting and testing HVAC systems and components
Discussing system malfunctions with customers
Repairing or replacing worn or defective parts
Recommending maintenance to improve system performance
Keeping records of work performed
An HVAC technician will work with heat pumps, AC units, ductwork, and thermostats. They all need to be installed, tested, maintained, and often replaced. Every home, office, apartment, warehouse, and retail store has an HVAC system that will need work, growing the demand for HVAC technicians.

How Do You Become an HVAC Technician?

An easy way to become an HVAC technician is to attend a trade school. HVAC programs offer a curriculum focused on the foundational aspects of the HVAC industry. You'll learn the knowledge and skills needed to start a successful career as an HVAC technician, and you'll get hands-on experience to practice many of the skills that you'll be doing on your first day of your new career.

Final Thoughts

If you're interested in a vocation that offers flexibility, job security, and the opportunity to work with cutting-edge technology, then a career in HVAC may be the right career path for you. Take the first step and learn more about Florida Technical College's HVAC program, and we will be with you every step of the way.

Want to Learn More?

Do you enjoy learning new technologies? Intrigued by how machines work? Becoming an HVAC/R technician may be the right career path for you. The HVAC/R with PLC Diploma Program offers you the technical and practical knowledge and professional skills to perform heating, refrigeration, and air conditioning maintenance, installations, and repairs. You will also learn basic skills related to the programmable logic controllers (PLCs). After graduation from this program, you will be able to fill positions at construction firms, as well as residential and commercial refrigeration and air conditioning companies.
Ready to move from the classroom to a career? Florida Technical College is here to help you. Contact us to learn more about completing the HVAC program at Florida Technical College.
*These examples are intended to serve only as a general guide of possible employment opportunities. There are many factors that determine the job an individual may obtain, and Florida Technical College cannot guarantee its graduate any particular job. Some positions may require license or other certifications. We encourage you to research the requirements for the particular position you desire.
To find out if going back to school for training as an HVAC /with PLC technician makes sense, visit any of the three campuses offering the program –Deland, Kissimmee, and Pembroke Pines. Tours are available to check out our facilities and to meet our experienced instructors.